Opening a new medical facility on-time is always challenging. An MCD (Medical Construction & Design) survey in 2018 said that less than 50% of all projects open on time. If we did that poll today, it would even be less, given all the supply chain delays. One common problem when opening any healthcare facility is completing all the biomedical asset-tagging and ESIs (Electrical Safety Inspections) required in a timely fashion. These biomedical check-ins cannot happen until items are delivered and installed in rooms, which is typically near the end of the project. New healthcare facilities have anywhere from 1,000-4,000 pieces of new equipment that require biomedical attention.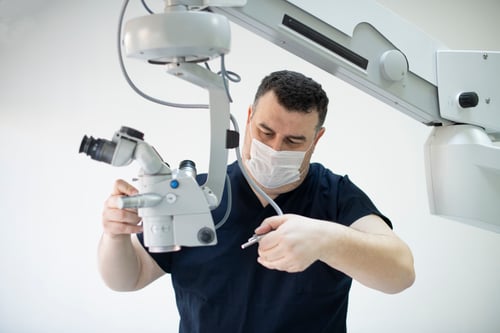 A typical biomedical department is busy 24-7 working on scheduled maintenance and repairs, while keeping all the existing equipment within their healthcare system running smoothly. Biomedical technicians have always been in short supply and current labor shortages are magnifying those absences. Finding 200-600 extra man hours to perform these check-ins is difficult. Here are three ways CME Corp can help:
Augmenting Your Biomedical Team
CME has skilled biomedical technicians strategically located across the US. We coordinate with project timelines and send in our Biomedical Technicians (BMET) to finish a project and ease your burden. Our BMET team members are trained to assist your biomedical technicians according to your guidelines and observing OEM specifications. Your biomedical team can continue doing their important maintenance work while CME takes care of getting your new equipment ready for use.
Capital Asset-Tagging, Incoming Inspections, and Electrical Checks
Our BMETs can do incoming inspections, asset-tagging, ESIs and deliver the results in any format you require. Our reports are customizable and generated in a timely manner after the tasks are completed. CME recently completed a biomedical project that included over 1,700 incoming inspections! Learn more by viewing the Colorado Outpatient Medical Center case-study and infographic.
Flexibility
All new construction projects have bumps and changes along the way. CME knows that and prides itself on being flexible. We recently completed biomedical check-ins for a new medical facility in Baltimore, where the original agreement was for just over 1,000 items. When we completed the project, CME had performed just under 2,000 incoming inspections, almost doubling the original estimate!
For more information about CME Corp. and its biomedical solutions contact us at 800-338-2372 or go to cmecorp.com.
---
About CME: CME Corp is a full-service healthcare equipment and turn-key logistics company providing personalized support and service. With service centers nationwide, CME offers more than 2 million medical products from a total of over 2,000 manufacturers. CME is a healthcare system's complete equipment solution by providing product selection, sales, warehousing, assembly, staging, direct-to-site delivery, installation, and biomedical services for all its equipment.