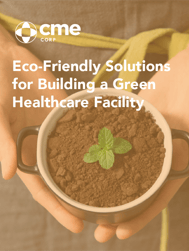 eBook Now Available
There are 5,534 registered domestic hospitals, according to the American Hospital Association. Each one of those facilities is esti­mated to generate up to 25 pounds of waste per day per patient. The math seems to indicate that health care centers produce an endless stream of garbage at an unsustainable rate.
Furthermore, it's only one industry and one waste source in an ever-growing country, struggling to find solutions to land­fill overload. As regulations tighten to relieve the burden trash puts on our ecosystem, planners and buy­ers are searching for eco-friendly solutions to medical facility equip­ment and materials.
CME Corp introduces its latest resource, Eco-Friendly Solutions for Building a Green Healthcare Facility, where we explore different equipment alternatives that can help equipment planners and purchasing departments make greener choices when equipping their current or new facilities. Many healthcare systems have sustainability goals, but most are focused on processes not equipment choices. Making greener product choices happen at the planning phase of a new facility and many departments need to a part of the conversation.
It's a common misconception, the notion that "green products" will only cost you more. While this may hold some truth when looking at item price tags, the long-term environmental benefits often accompany rich financial gains. An easy illustration is LED lighting. Here is a product with a higher per unit cost than its traditional counterpart but offers facilities less electrical fees while lessening the need for halogen and hazardous materials to be removed and disposed of properly.
Buyers and planners have the power to establish the framework for highly efficient and long-term cost-saving medical facilities. Knowing what to look for, and which products to choose is paramount to your success as an eco-friendly planner. Having a higher understanding enables more comfortable budget and cost forecasting discussions in all circles of decision makers.
CME can suggest greener options in many product categories. Download the eBook today to learn more about CME's eco-friendly solutions.
---
About CME: CME Corp is the nation's premier source for healthcare equipment, turnkey logistics, and biomedical services, representing 2 million+ products from more than 2,000 manufacturers.
With two corporate offices and 35+ service centers, our mission is to help healthcare facilities nationwide reduce the cost of the equipment they purchase, make their equipment specification, delivery, installation, and maintenance processes more efficient, and help them seamlessly launch, renovate and expand on schedule.