Vital signs have an impact on every patient, every day. That's why it's important to plan for an implementation that best supports your organization's unique clinical workflows—helping your clinicians access the tools they need, when and where they need them. Here are some considerations to help you determine the best solution for you.
Sharing Vital Sign Devices Between Rooms
Many organizations opt to share devices between rooms. This option can reduce upfront costs and help leverage your investment wherever it is needed most.
To support this workflow, choose a monitor on a mobile stand with features that support your clinicians' needs. Options can include accessory baskets, built-in work surfaces and/or integrated batteries to help power through a busy day.
Considerations:
Sharing a device across multiple rooms can help reduce upfront costs.


Mobile stands can provide a convenient work surface.



Mobility increases flexibility, allowing clinicians to move devices from room to room or leave them in fixed locations.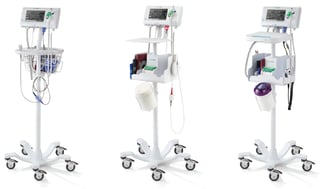 One Vital Sign Device Per Bed/Room
Some care settings require a dedicated device in every room, or at every bedside. This option may require a larger upfront investment, but with standardization, purchasing at scale and reduced time/labor spent locating and disinfecting shared devices, the ROI can be powerful. Use cases requiring continuous patient monitoring (e.g., etCO2 or SpO2) may also lend themselves to a device that's dedicated to the room.
To support this workflow, you may opt for a wall-mounted monitor. Options include standard VESA wall mounts, monitors mounted onto modular wall systems, or all-in-one diagnostic wall systems with fully integrated digital vitals monitoring.
Considerations:
Reduce time spent locating shared devices and disinfecting between patients.


Implement continuous monitoring for respiration rate, etCO2 and more, which may be especially important in acute care settings.



Make the most of your limited wall space with an all-in-one wall system including digital vital signs monitoring.

Need help deciding on the right implementation for your facility?
Welch Allyn is a leader in healthcare innovation and has an extensive selection of Vital Signs models and configurations to choose from. CME has been a great partner with Welch Allyn for over 30 years. To learn more about these options, talk to your CME account manager or call 800-338-2372.
For information on other essential equipment, read one of our latest blogs The Top Ten Must Haves For Your New Exam Room.
---
About CME: CME Corp is the nation's premier source for healthcare equipment, turnkey logistics, and biomedical services, representing 2 million+ products from more than 2,000 manufacturers.
With two corporate offices and 35+ service centers, our mission is to help healthcare facilities nationwide reduce the cost of the equipment they purchase, make their equipment specification, delivery, installation, and maintenance processes more efficient, and help them seamlessly launch, renovate and expand on schedule.