Medical exam tables are a staple medical equipment asset in healthcare facilities across the nation. Back in the day patient exam tables were usually a flat surface supported by four solid legs. Those days are long gone.
Today, selecting the right medical exam table for the countless and diverse clinical settings is paramount. We live in an age where patient comfort and experience are key factors in the overall quality of the medical care provided.
In this guide, we will discuss:
Important Factors to Consider When Choosing a Medical Exam Table
Patients come in all sizes, shapes, and ages. The list of the types of medical exams is almost endless. So, what are the most important features for exam tables?
Functional Features. Begin an evaluation of functional features by identifying the types of exams you plan to perform on the table.
Here are some questions to consider:
Will the patient exams require stirrups?

Will some exams use devices that require additional electrical outlets?

Will exams or procedures require the table to articulate in any way?
The answers to these questions need to be considered when evaluating tables to ensure that the best table is selected for purchase.
Patient comfort and Safety. Patient comfort and safety are top priorities for any healthcare facility. Selecting an exam table to ensure comfort and safety is also a priority. For example, bariatric patients require larger tables to be comfortable, young pediatric patients need a top that prevents them from rolling off, and patients with mobility challenges benefit from ADA compliant medical exam tables.
Consider Versatility and Adjustability. With medical exam table costs rising like everything else, versatility and adjustability are critical factors to consider. For instance, in clinical environments treating a diverse range of ages, confirm that your exam table selection will accommodate those varying needs.
Think too about height adjustability. Adjusting the height of medical exam tables gives a patient safe, easy access to the table. Height adjustability also allows the healthcare provider to perform minor procedures or exams comfortably, easing strain on both the patient and provider. Protect both patients and staff from falls and back strains.
Size and Weight Capacity are closely related to patient comfort and safety. Medical exam tables with a weight capacity greater than five hundred pounds are necessary for healthcare facilities treating patients with weight challenges.
Durability and quality are critical in any capital medical equipment purchase.
Consider the materials used to construct the medical exam table – steel or wood.
Is the upholstery made of a material that can be cleaned multiple times a day with potentially harsh chemicals?
Does the table under consideration have a seamless top? Many lower quality upholstery tops have seams that can trap bacteria.
Hygiene and Cleanliness are the sisters to durability. For example, the frame and upholstery of medical exam tables should be able to withstand frequent cleaning.
Both should be seamless to minimize the potential for liquids getting trapped in the seam. And look for antimicrobial finishes on powder coated or plastic surfaces and antimicrobial vinyl upholstery.
Storage and Accessories foster efficiency in a landscape plagued by staffing shortages. Whether manual or power, medical exam tables with drawers or base cabinets put necessary supplies and medical devices in immediate reach of the healthcare provider. Look for optional drawer dividers to keep supplies organized.
With an eye to versatility and patient experience, consider features such as women's health accessories, exam light brackets, and patient assist handles.
While it is obvious, choose a medical exam table that fits the needs of the facility. Physical Therapy and Rehabilitation exam tables are quite different from Box Tables with adjustable head and back rests.
Some additional exaggerated examples illustrate the point.
Procedure Tables, also known as Procedure Chairs, will not work well in radiology but Imaging Tables will.
Operating or Surgical Tables used in ambulatory surgical centers, operating rooms, or surgical suites can be stationary or mobile but would not offer the best experience for patients in a pediatrician's office.
Delivery and Installation. Finally, your table selection may be hundreds of pounds in weight, heavily crated, or require significant assembly.
Contact CME to discuss potential delivery challenges. CME may be able to help you make difficult delivery easy with our robust network of installers all over the country.
Finally, ask questions before placing an order. Exam tables will be with you for a long time. Taking the time during the evaluation and vetting process to ask questions will ensure that you have selected the right table for your needs. All questions are worth asking.
CME is here to help you answer those questions and to help you choose the best medical exam table.
Types of Medical Exam Tables
Manual Exam Tables

Practical, reliable, and safe, basic manual medical exam tables may be a great choice for multi-practice clinics looking to contain medical exam table cost.
Power Exam Tables

Power medical exam tables offer flexible positioning options with the aid of pistons and motors. Full power tables offer both power lift and power backrest adjustability.
Height adjustability to ADA recommended heights may help healthcare facilities realize ADA tax credits. The ADA Tax Credit can be 50% of the cost of equipment purchased that is ADA compliant. Consult tax advisors for specific details.
Procedure Chairs (Procedure Tables)

Procedure Tables give practitioners the unobstructed access needed to perform minor procedures without the hindrance of a large box cabinet base.
Height adjustability to ADA recommended heights may help healthcare facilities realize ADA tax credits. The ADA Tax Credit can be 50% of the cost of equipment purchased that is ADA compliant. Consult tax advisors for specific details.
Bariatric Exam Tables and Exam Chairs

Bariatric medical exam tables offer a wider surface for larger patients. These exam tables are typically constructed with reinforced materials to safely accommodate larger patients.
Pediatric Exam Tables

Pediatric medical exam tables may be brightly colored and decorated with fun juvenile motifs to reduce the anxiety some children may experience during medical exams.
Manual Treatment Tables
Typically found in physical therapy centers or chiropractic offices, manual treatment tables provide a flat, easily accessible surface for therapy sessions. The padded surfaces offer a comfortable platform for patients.
Many of these tables are shipped disassembled from the manufacturer and will require assembly. Contact CME, to learn more about assembly and installation services.
Power Treatment Tables

Like manual treatment tables, power treatment tables provide a flat, comfortable surface for therapy or medical exams.
Height adjustability to ADA recommended heights may help healthcare facilities realize ADA tax credits. The ADA Tax Credit can be 50% of the cost of equipment purchased that is ADA compliant. Consult tax advisors for specific details.
C-Arm Table

Although not true medical exam tables, C-Arm Tables are critical capital medical equipment assets in ambulatory surgical centers and hospitals. Also known as imaging/pain management tables, these tables are used for imaging during procedures.
Imaging Tables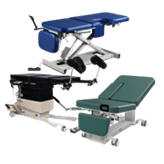 In addition to standard medical exam tables, there are specialty tables commonly used in healthcare facilities. For example, imaging tables are specifically designed to be used in radiology departments for routine x-rays, ultrasound, CT scans and MRIs. Today, imaging tables are ergonomically designed with the comfort and safety of the technician in mind. Other common features include.
Learn more about the types of medical exam tables.
Choosing the Right Medical Exam Table
Like patients, medical exam tables come in all sizes and shapes.
Choosing the right exam table for the purpose of the healthcare facility and the comfort of the patient is critical to the satisfaction of staff and patient. The key to making an informed purchase is taking the time to answer questions like these:
What accessories will provide the most versatility?
Does the exam table allow the patient to be positioned in different ways to accommodate a variety of medical procedures?

In terms of accessibility and comfort, has the exam table been designed with the patient in mind?

In terms of accessibility to the patient and caregiver safety, has the exam table been designed with practitioners in mind?

Is the table designed with an eye to frequent cleaning?
Is the medical exam table cost within budget?
How will a table that may be very heavy or require assembly and installation be delivered?


Learn more about features that make a medical exam table ADA compliant before finalizing the capital medical equipment purchase.
Medical Exam Tables by Manufacturer
Explore the CME Corp. online shop for the complete selection of models.
Exam Table Type
Manufacturer
Features
Benefits

Manual Exam

Table

Brewer, Clinton, Midmark, UMF
Adjustable headrest, footrest, and backrest.
Functional, Reliable, Practical

Power Exam

Table

Brewer, Clinton, Midmark, UMF
Power height adjustment includes the entire table. Power adjustment of individual table parts.
Power adjustment minimizes the energy, exertion and time required to get patients safely on the exam table.

Procedure

Chair/Table

Brewer, Clinton, Midmark, UMF
Adjustable height and preset positions for specific procedures.
Position patients properly to perform the required procedure safely and easily.

Bariatric Exam

Table

Brewer, Clinton, Midmark, UMF
Heavy-duty structure and wider surface area to accommodate patients over 500 lbs.
Ease of transitioning, adjusting, or lifting bariatric patients.

Pediatric Exam

Table

Brewer, Clinton, Goodtime Medical, Midmark, UMF
Sized for the youngest patients but tall for examinations by healthcare providers. Often includes digital scale.
Designed with the youngest patients in mind.

Treatment Table
Armedica, Clinton, Hausmann, Oakworks
Features padded surfaces and adjustable height options
Provide a comfortable and accessible platform for patients during medical exams or physical therapy sessions.

Power Treatment

Table

Clinton, Hausmann, Oakworks
Electric height adjustments are often controlled with a foot pedal.
Offer a soft, stable surface to support patients during treatment. Clinicians effortlessly adjust the table to an ideal height for the therapy or exam.

C-Arm Table
Biodex, Oakworks

Quiet, vibration-free patient positioning. Free-float tabletop with face cutout.

Quick and comfortable patient positioning.

Imaging Table
Biodex, Clinton, Oakworks
Carbon fiber top surface. Ergonomic design.
All positioning motions powered.
---

As a nationally recognized medical equipment distributor and logistics company, CME has cultivated relationships with multiple medical exam table manufacturers in the United States.
Our expert account managers will work with you and the manufacturers' representatives to ensure that you are purchasing the best exam tables for your facility, at the best price for your budget. Click the CHAT button to start the conversation.
CME can in most cases receive, inspect, assemble, deliver, and install your medical exam tables when it is convenient for you. Learn more about CME's one-of-a-kind direct-to-site logistical services with a visit to our website www.cmecorp.com.
---
Additional Resources:
How to Select the Best Exam Table for Your Healthcare Facility
A Medical Equipment List of Must-Haves for Your New Exam Room
Efficiency, Staff Retention & Saving Money: Think Medical Equipment
---
Best Medical Exam Tables FAQs
What is a medical exam table?
Medical exam tables or exam chairs give patients a safe, comfortable seat for medical exams, diagnostics, or treatments. Medical exam tables also give the healthcare provider access to the patient without excessive bending or stretching.
What is the function of a medical exam table?
Primarily, medical exam tables safely and comfortably support patients in prone, supine, or side-lying positions during examinations or treatments. Medical exam tables come in a variety of sizes and shapes to accommodate specific types of exams.
What is the size of an exam table?
Medical exam tables come in a variety of sizes from bariatric to pediatric. Exam tables that comply with ADA standards are adjustable to a height of 17"-19" above the floor with a transfer surface no less than 30" wide by 15" deep.
What is a Jackson table?
A Jackson table is an open frame design table for posterior spinal surgeries, orthopedic and trauma procedures, and imaging. The table is extraordinarily stable and generally is equipped with interchangeable tops.
1. https://www.cozen.com/news-resources/publications/2019/when-is-obesity-a-disability-under-the-ada-

---
About CME: CME Corp is the nation's premier source for healthcare equipment, turnkey logistics, and biomedical services, representing 2 million+ products from more than 2,000 manufacturers. With two corporate offices and 35+ service centers, our mission is to help healthcare facilities nationwide reduce the cost of the equipment they purchase, make their equipment specification, delivery, installation, and maintenance processes more efficient, and help them seamlessly launch, renovate and expand on schedule.