Searching for exam tables can be an overwhelming task. Due to the various clinical settings designed to treat different patients with different issues, there are multiple types of exam tables that correspond with each setting.
In efforts to simplify your search, here are the 10 types of exam tables:
1. Manual Exam Tables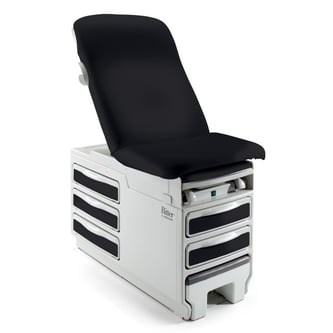 Manual exam tables, also referred to as box tables, are your standard exam tables that focus on functionality, reliability, and practicality. A great example of this table is the Midmark Ritter 204.
Though they don't come with any motorized features, they are very accommodating and allow patients to lie down during their check-ups. Manual exam tables also feature a headrest and adjustable footrest, and many come with extra storage within their cabinets and drawers. These tables typically feature a heavy-duty step to assist patients as they get onto the table, which could be simple for some patients but demanding for others.
Depending on your clientele, manual exam tables could be a great choice, especially if you have a smaller space or work in a multi-practice clinic.
2. Power Exam Tables
Power exam tables, also known as high-low tables or electric tables, are the most popular types of examination tables. You can easily change the height and position of each section by activating a lever or button.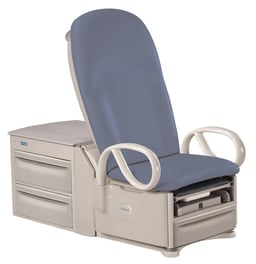 While manual exam tables have an adjustable headrest and backrest, they have fixed seating. Power exam tables, on the other hand, typically offer more adjustability and, therefore, are available as an alternative to the more traditional manual option.
Some power exam tables can lift or lower the entire table, while others can adjust individual parts. Having the powered options reduces the energy, exertion, and time it takes to adjust the table, and it keeps patients comfortable. An example of this table is the Brewer Access 6500.
These are great for practitioners who provide in-office procedures, but really, any doctor would benefit from a power exam table. Its effortless convenience for handling patients, as well as its easy accessibility make these tables a solid choice.
3. Procedure Tables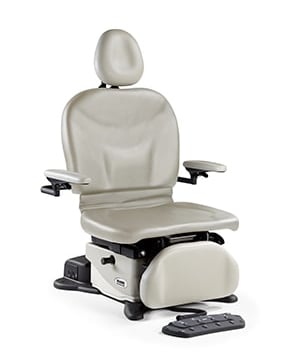 Procedure tables, also referred to as procedure chairs, are designed to comfortably assist medical professionals during minor procedures.
Prioritizing patient comfort and practitioner movability, most procedure chairs have an adjustable height feature, along with preset positions to ensure a hassle-free procedure performance. An example of this table is the Midmark 630 Humanform Procedure Chair, which also allows a rotation of 350 degrees.
Similar to manual exam tables, procedure chairs often include storage and are upholstered in easy-to-clean, antimicrobial vinyl.

Some procedure chairs also have pre-programmed positions that adjust the table to the specific procedure that is being performed.
4. Treatment Tables
Treatment tables include massage tables, therapy tables, h-brace tables, and traction tables. They're specifically manufactured for massage practices, physical therapy, chiropractic care, rehabilitation, or medical procedures.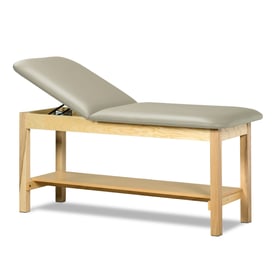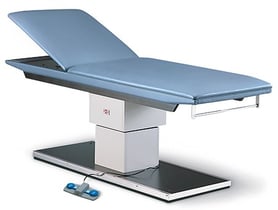 Treatment tables are available in both manual options, like the CME Antimicrobial Treatment Table (left), and powered (right) options, like the Hausmann Powermatic Treatment Table.
Depending on the purpose of the table, it can either be flat with thin padding or it could have thick padding and adjustable settings; both options provide comfort for your patients.
There are treatment tables with storage drawers underneath the seated area, but most are quite simple to easily perform the required functions for your facility.
5. Bariatric Exam Tables
Bariatric Tables, like the UMF Medical 5005, are designed to provide additional patient support for those over 500 pounds. Built as heavy-duty structures, bariatric exam tables are strong and stable, and they make it easier for practitioners to transition, adjust, or lift overweight patients.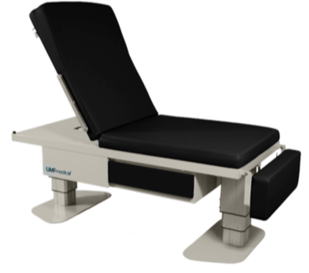 6. Pediatric Exam Tables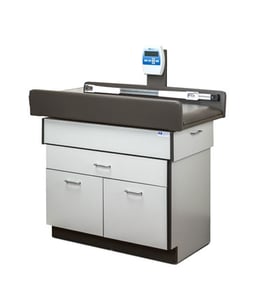 If you work in a pediatric care facility, pediatric exam tables are exactly what you and your patients need. These tables are sized appropriately for children of various ages and are, therefore, smaller in size and taller in height.
Pediatric exam tables truly keep patients in mind, as they're designed with fun art and bright color options to help children feel at ease when visiting the doctor.
Most pediatric exam tables, like the Clinton 7830, come with digital scales, among other features, to simplify the process of weighing young children, toddlers, and babies.
Choosing this type of exam table is perfect for pediatricians looking to better care for their youthful patients.
7. Operating Tables

Operating tables, also known as surgical tables, c-arm tables, or operation tables, are for patients to lie on during surgical procedures. These are typically used within ambulatory surgery centers, operating rooms, surgical suites within hospitals, or other healthcare facilities where surgeries are performed. They can also be used for various types of procedures, whether orthopedic, bariatric, urologic, cardiothoracic, and more.
While you can have a stationary operating table, mobile operating tables were designed with casters to conveniently move patients from room to room. One example of a mobile operating table is the Biodex 058-846 Surgical C-Arm Table, pictured right.


8. Imaging Tables

Imaging tables are procedure tables specifically designed for imaging procedures like radiology, ultrasound, CT scans, MRIs, and even surgery. Imaging tables are available with a range of accessories, like a c-arm or specialized positioning for urology, surgery, or an ultrasound.
The Oakworks 61848, pictured below, is a great ultrasound imaging table specifically designed for women; it includes retractable footrests, or stirrups, to better assist female patients.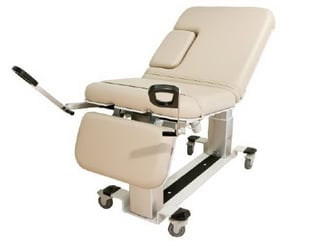 Having additional accessories helps to make these procedures even more comfortable and effective for both patients and healthcare professionals. To ensure easy use and durability, these tables are often constructed with carbon fiber top surfaces.
9. Tilt Tables

Tilt tables allow for special tilt table tests to take place, which help doctors identify any unknown causes of syncope (fainting). Doctors are able to securely strap their patients prior to tilting the table backwards and forwards.
If your work requires tilting patients to provide a diagnosis, tilt tables are the best for your practice. A great example is the Hausmann 6040-709 Electric Tilt table.
10. Specialty Tables

Specialty tables are exam tables that cater to the specific needs of specialty practices. For example, mat tables, like the Clinton Upholstered Mat Platform, are designed for athletic centers, massage therapy facilities, rehabilitation clinics, and more.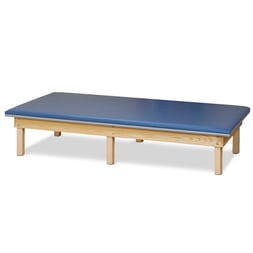 Each medical specialty will have a preference for the exam table that best meets their needs. If you're feeling unsure of which exam table is best for you, be sure to read How to Select the Right Exam Table to help you make a confident decision.
While there are 10 different types of exam tables, they were all designed for one unifying purpose: to maximize the ease of accessing patients for the comfortable treatment of patients.
---
About CME: CME Corp is the nation's premier source for healthcare equipment, turnkey logistics, and biomedical services, representing 2 million+ products from more than 2,000 manufacturers.
With two corporate offices and 35+ service centers, our mission is to help healthcare facilities nationwide reduce the cost of the equipment they purchase, make their equipment specification, delivery, installation, and maintenance processes more efficient, and help them seamlessly launch, renovate and expand on schedule.