Detecto's SONARIS stadiometer can measure virtually anyone's height without any restrictions that normal stadiometers are bound by. SONARIS provides touchless height measurement via its state-of-the-art sonar technology that triangulates the top of the patients head instantly. Whether the patient is a tiny child or a giant adult, SONARIS will measure their height, regardless of size, covering a greater height range than any conventional height measuring instruments. Because sonar waves are being used, the person being measured doesn't have to fit within any height minimums that normal digital or mechanical height rods use.
Stand-Alone or Wall Mounted
SONARIS can be used stand-alone on a desktop/tabletop without fixed mounting for mobility, or it can be wall mounted for permanent use. SONARIS features pinpoint accuracy to 0.2 in and 5 mm graduations, measurement range from 0 - 9 ft high, displays four units of measurement (ft/in, in, cm, and mm), and is powered by an AC adapter (included) or 6 AA batteries (not included). SONARIS is simple to use, with only two buttons: POWER and UNITS. The stadiometer arrives all in one piece and is ready for use right out of the box (no assembly required).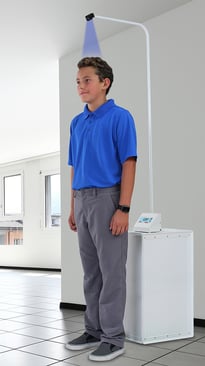 Portable and Versatile
SONARIS auto calibrates to its current position every time its moved, so the unit is completely portable and versatile enough for almost any environment. The easily-visible LCD provides ¾-inch-high bold digits and features a blue backlight. Ideal for school health, hospitals, physician offices, clinics, and patient home use, SONARIS provides instantaneous, touchless digital height measurement using exclusive new sonar technology by DETECTO. Simply set it down on a countertop or wall mount it, auto calibrate, and it's ready for measurement.
The SONARIS is a hands-free device which also qualifies it as an HAI prevention product. CME is dedicated to fighting HAI by providing cutting-edge cleaning technology and equipment to our customers with our complete line of products that will help combat HAI. CME works to be a hospital system's cradle-to-grave solution for all of its equipment and is proud to partner with Detecto and provide Detecto products to our customers.
Learn More: Ask your CME account manager for more information or call 800-338-2372.
---
About CME: CME Corp is the nation's premier source for healthcare equipment, turnkey logistics, and biomedical services, representing 2 million+ products from more than 2,000 manufacturers.
With two corporate offices and 35+ service centers, our mission is to help healthcare facilities nationwide reduce the cost of the equipment they purchase, make their equipment specification, delivery, installation, and maintenance processes more efficient, and help them seamlessly launch, renovate and expand on schedule.