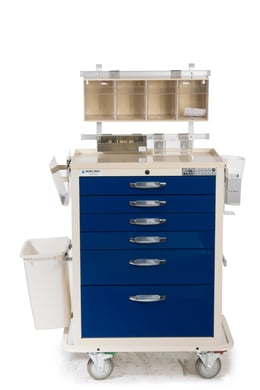 About Blue Bell Medical
Founded in 1982, Blue Bell introduced the first true workstation to fit the unmet needs of anesthesia providers. Blue Bell steadily grew to include carts for other specialty applications, and it was the first to introduce the Malignant Hyperthermia cart. For more than 35 years, Blue Bell has been providing industry leadership in medical storage products. We take pride in providing products that are designed and manufactured for high quality, durability, reliability, and ease of use. Blue Bell remains committed to continuous product development, highly customizable workstations, quick delivery and exceptional customer service.
Blue Bell Situational Analysis
Problem:
The cost of acquiring, maintaining and replacing medical instruments, diagnostic tools and supplies are rising. The need to limit access in medical facilities to clinical drugs, medical supplies and instruments is growing as are the health risks, theft losses, liability costs and damages to individual and organization reputations. Today's medical administrator needs the increased security, accountability, and ability to monitor and control user access.
Solution:
Blue Bell Medical's wireless autolocking system for medical carts allows administrators to:
Limit direct access to the cart

Ensure medical supplies are used by the proper department or work team

Lessen time and increase accuracy involved with granting and removing access to these assets

Switch administrative rights for quick changes through the network (WIFI)

Provide critical records of who and when someone has accessed a cart; a complete audit trail for the certification process
The Wireless Autolock System Features include:
Keyless entry with mechanical dimple key override lock

Storage of 3,000 user/supervisor codes that can be managed through the optional Lockview Software

Record of last 15,000 access attempts with date, time and username

Manage user credentials and lock settings from a centralized location

Relock time may be programmed through optional Lockview software from 1 to 999 minutes

Uses 6 D batteries
Additionally, Blue Bell Medical offers the optional card readers, Proximity Reader or Magstripe Reader/Swipe Card.
Lockview® Software Features include:
Add, edit, view and delete users/supervisors and their credentials

Assign access rights between users/supervisors and CompX eLocks® in the database

USB or network connection

Download, view, save, print, archive and delete audit trails

Dual credential access available

Time-based access restrictions

Create user groups

Windows™ based

Compliance Dashboard view
Blue Bell Procedure Specific Carts
Blue Bell provides optimal patient care with our storage organization. We have developed and designed the most common carts within the procedure arena. We offer Procedure and Emergency Department carts, Difficult Airway, Epidural, Exchange and Supply, Isolation, Bedside & Nurse Server, Crash and Pediatric Crash Carts, Anesthesia and Malignant Hyperthermia Carts.

Choose from 18 different colors and 5 different lock options: Electronic Push Button , Wireless Autolock, Combination Push Button, Breakaway, and Dimple Key Lock
Learn More: Ask your CME account manager for more information or call 800-338-2372