CME has partnered with Health o Meter to provide clients with the absolute best in technology and product ability. When it comes to healthcare equipment, they serve in both the interests of the patient and the professional; there are few who can provide better service and ability than our combination.

About Health O Meter Professional
Since 1919, Health o Meter® Professional Scales has provided the medical community with high quality, innovative digital and mechanical healthcare scales. Health o meter® Professional Scales designs products to help patients and the providers and institutions that care for them.
In addition to offering a broad range of high-quality scales, Health o meter® Professional Scales was noted as being the market leader for connectivity options. The company offers the most number of connectivity solutions for the digital transmission of BMI, height, and weight measurements into EMR systems.
There are a number of products Health o meter® Professional Scales provides to help you weigh easier.
Health O Meter: Product Features
Providers are overwhelmed with patient care and are focused on operating efficiently and with an eye on costs. They need equipment that helps them address key areas of concern such as patient engagement, patient safety, and workflow efficiency. There are a number of Health o meter® Professional products dedicated to just that.
G6 Body Composition Scale
For physicians looking to address obesity with their patients, Health o meter® Professional Scales offers the G6 series of body composition scales. These body composition scales educate patients and impact patient outcomes by helping physicians track the proper weight loss and engage patients in their care. Beyond just body weight, body composition scales measure a patient's Body Fat %, Visceral Fat, Fat-Free Mass, Body Water %, Muscle mass, and Body Mass Index. These measurements provide the physician valuable health data to help more effectively track how a patient loses weight.
Exclusive to the G6 Series, users can choose from 3 graphic printout formats that help educate patients. Options include Adult/Bariatric, Pediatric and Fitness printouts. These personalized printouts provide patients with complete information about their body composition and information regarding the health risks associated with being overweight. And unlike competitive products, the G6 eliminates the need for extensive and intrusive pre-test restrictions, while providing accurate and repeatable results.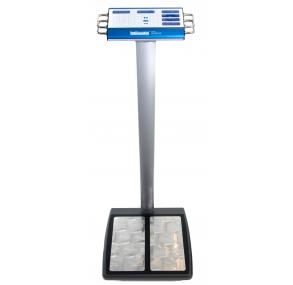 Eye Level Scale with Digital Height Rod and Built-in Bluetooth Technology
A scale maximized for efficiency, the Eye Level Scale with Digital Height Rod has the built in ability to interface with a computer, EMR software, or other electronic device via USB or built-in Bluetooth® wireless technology. Its 350-degree swivel display can be read from almost any angle, and guarantees ease of use and patient privacy even as the digital height rod accurately captures the patient's height measurement.
Equipped with a number of value-added features such as LB/KG Conversion, LB/KG Lock Out, BMI, Zero Out/Tare, Hold/Release, Auto Zero, and Auto Off, this scale's low platform height requires only minimal set up for a comfortable, stable weighing experience.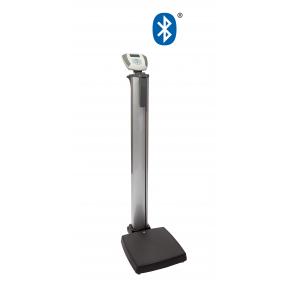 Antimicrobial Digital Platform Scale with Extended Handrails
Built with form and function in mind, the antimicrobial digital platform scale with extended handrails is built for safe patient handling. Designed to reduce costs associated with in-patient falls, the "live" handrails advanced technology allows the patient to hold onto handrails for stability while the scale accurately calculates weight. With a low profile platform that requires only minimal step up, patients using this scale will experience a more comfortable and stable weighing experience, while extended handrails provide support and help patients maintain balance when stepping onto the platform.
The handrails and transport handle are manufactured with an antimicrobial powder coating with silver ionic technology that suppresses the growth of bacteria and helps protect against cross-contamination. These patient safety features make this scale a great answer to the concerns of most medical care facilities.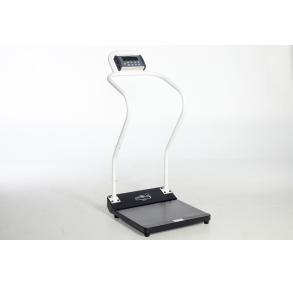 In partnering with Health o meter® Professional Scales, CME is dedicated to providing you with only the best products and services. If you are looking for products devoted to resolving the obesity problem in America, look no further than Health O Meter, as delivered by CME.
Ready to get started on staffing your healthcare facility with the best products in the industry today? Contact your CME representative for more info.
---
About CME: CME Corp is the nation's premier source for healthcare equipment, turnkey logistics, and biomedical services, representing 2 million+ products from more than 2,000 manufacturers.
With two corporate offices and 35+ service centers, our mission is to help healthcare facilities nationwide reduce the cost of the equipment they purchase, make their equipment specification, delivery, installation, and maintenance processes more efficient, and help them seamlessly launch, renovate and expand on schedule.