Detecto and CME have teamed up to provide a wide array of innovative technology to our customers. For years, CME has been proud to partner with Detecto's innovative, USA-made technology, with the sole purpose of exceeding your expectations by offering not only the best service, and delivery, but excellent products as well.

About Detecto
Dedicated to providing their customers with a means to "build a better weigh," Detecto Scale is an ISO-9001 certified scale manufacturer dedicated to a comprehensive line of quality weighing products for the healthcare, foodservice and shipping/logistics industries.
Founded in 1900, it is the largest medical scale manufacturer in the United States. Detecto employs a staff of 350 people trained in manufacturing high-quality weighing products and has even been featured in television spots for their efforts--which is why CME trusts them to deliver the very best products for your healthcare facility.
Detecto + CME: Featured Products
While Detecto and CME work together to provide you the best in manufacturing across the board, Detecto has made the effort to provide world class products in three key areas: scales, carts, and innovative UVC products. Here are some of their finest.
Solace Series Scales
Detecto Apex & Icon Solace series are USA-made in-floor dialysis scales that provide a hands-free method for obtaining a patient's height, weight and BMI with Detecto's new sonar height rods. These flush-mounted platform scales feature stainless steel decks as well as a pit frame, trim ring, and interface cable to a multi-color, touchscreen LCD indicator and printer.
These efficient clinical scales easily accommodate patients with walkers, canes, wheelchairs, or a seated in dialysis chair--and with Detecto's Apex and Icon series, your patients do not touch the height rod or control panel, reducing the spread of infections and eliminating cleaning after each use. This, along with a flush scale surface, eliminates tripping hazards and hallway accessibility issues.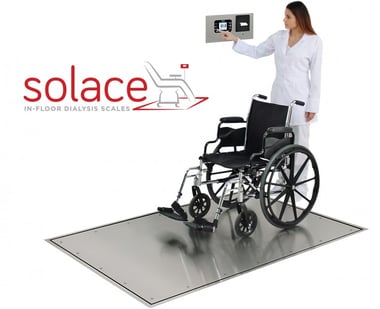 Rescue & Whisper Medical Carts
Detecto's new Rescue & Whisper medical cart series provides features unparalleled in the clinical mobile storage market. These new carts include drawer-like facades that quickly snap off and back on, as well as sealed drawer rails without any exposed seams for hygienic wipe-down cleaning.
The carts come in multiple color options (red, blue, yellow, and white) with five or six drawers and 360-degree rotation for tight corners. As the name implies, the Whisper series offers the whisper-quiet rolling convenience with its insulated interior walls, and the carts' balanced design will not topple over when full drawers are extended.
Manufactured from quality aluminum, the cart's body is constructed with powder-coat paint for durability. The Rescue & Whisper carts come either fully-loaded or pre-stocked with typical accessories needed for ER or Anesthesiology departments for your convenience.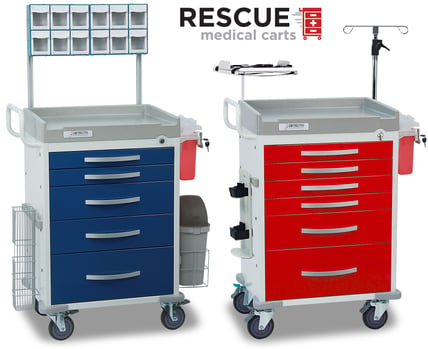 Healthy Sole Plus UVC
Detecto's new Healthy Sole Plus is the first clinically-proven UVC product to kill up to 99.99% of exposed microorganisms, including bacterial and viral pathogens on the soles of shoes in 8 seconds. By adding HealthySole® to an existing infection control program, your facilities can decrease their overall microbial footprint, starting with shoe and floor contamination.
HealthySole® significantly decreases the aerosolizing, migration, or transfer of deadly pathogens that lead to higher healthcare-associated infections (HAI) rates. Clinically tested by several 3rd party medical and research groups, no other product can be substituted to achieve up to 99.9+% active disinfection of pathogens on shoe soles and booties.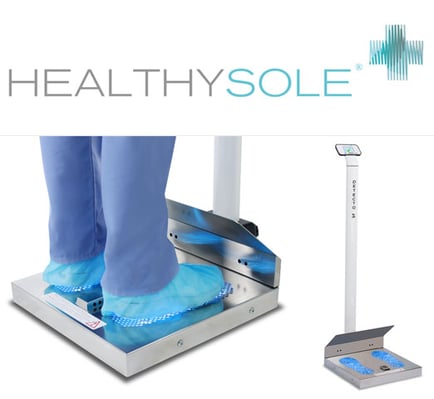 ---
In partnering with Detecto, CME is dedicated to excellence in not only product, but service as well. If you are looking products from a company dedicated to providing you with quality equipment, logistics and services, look no further than CME.
Ready to get started on staffing your healthcare facility with the best products in the industry today? Contact your CME representative for more info.
---
About CME: CME Corp is the nation's premier source for healthcare equipment, turnkey logistics, and biomedical services, representing 2 million+ products from more than 2,000 manufacturers.
With two corporate offices and 35+ service centers, our mission is is to help healthcare facilities nationwide reduce the cost of the equipment they purchase, make their equipment specification, delivery, installation, and maintenance processes more efficient, and help them seamlessly launch, renovate and expand on schedule.