Blood is central to life. And since blood cannot be manufactured or produced, donors are fully relied upon to supply and sustain blood reserves. But once blood is acquired, how is it stored? This core question is being re-examined in the medical world as questions surface surrounding the safety and preservation ability of blood storage equipment. Blood storage certainly deserves a closer look.
The Nature of Blood and its Preservation
Simply dissected, blood contains a mixture of red blood cells, white blood cells, platelets, and plasma. Each of these blood components requires specialized storage conditions to maintain a fresh and effective state. Thus, blood storage equipment becomes central when dealing with the question of how to best protect blood reserves. In response to this need, Corepoint™ Scientific released a new line of Blood Bank Refrigerators and Plasma Freezers that employ new technologies to house and preserve blood in its peak state.
Trusted Compliance Standards
Corepoint™ Scientific's high-performance devices revolutionize blood storage. Science-backed and FDA certified, they offer advanced monitoring options and temperature guards to optimally preserve plasma and blood. These medical devices are also compliant with the regulations set forth by the Association for the Advancement of Blood and Biotherapies (AABB). Units are ETL/cETL listed and proudly feature EPA SNAP compliant refrigerants which provide energy efficiency and environmentally friendly cooling.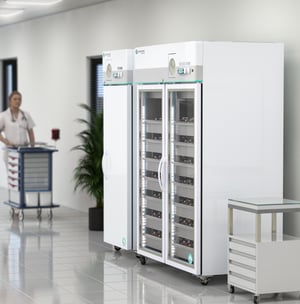 Features Backed by Science and Technology
These units may sound impressive in print, but how do these features break down into everyday use? Let's take a look. Every refrigerator or freezer in this line comes equipped with a fully programmable LCD controller with temperature logging capabilities. Blood-simulating product sensors like glycerol bottles and solid thermal ballasts effectively monitor temperature conditions inside the chamber. Password protection, keyed door locks, and a full array of alarms protect stored contents in multi-functional ways. In case of a power outage, units include battery backups to monitor temperature during power loss. High-capacity drawers deliver 50+ blood bags or plasma boxes for maximum storage space. And product interiors are encased in stainless steel and feature LED lighting and probe access.
Explore Customizable Accessories
Along with this full panel of features, you can also choose from optional accessories to personalize your experience further—change out liquid ballasts to solid ballasts, add an optional 8th drawer, or choose chart paper recorders for your application. Anchoring kits are also available to secure units with casters to the floor and help prevent tipping hazards. Whatever the case, you can expect customizable options to meet your specific clinical needs.
Make your Blood Count
In the end, proper blood storage doesn't just mean product protection. It means saving lives. Which is why we believe premium blood storage is worth investing in. Corepoint™ Scientific Blood Bank Refrigerators and Plasma Freezers deliver a safe, science-backed solution to preserve and sustain blood. Protect this life-giving substance. Protect your healthcare establishment. And most importantly—protect the lives in your care.
To learn more about American Biotech Supply's solutions for healthcare, talk to your CME Account Manager or go to www.cmecorp.com.
---
About CME: CME Corp is a full-service healthcare equipment and turn-key logistics company providing personalized support and service. With service centers nationwide, CME offers more than 2 million medical products from a total of over 2,000 manufacturers. CME is a healthcare system's complete equipment solution by providing product selection, sales, warehousing, assembly, staging, direct-to-site delivery, installation, and biomedical services for all its equipment.
About American BioTech Supply: American BioTech Supply, a Horizon Scientific, Inc. company, is an active member of the committee that developed the NSF/ANSI 456 standard. ABS provides a full range of temperature-controlled equipment to our customers across the healthcare, laboratory and clinical research, pharmaceutical, and industrial segments. The extensive portfolio of quality products ranges from small capacity countertop refrigerators and freezers, including special purpose, application-specific models, as well as cryogenic freezers for long-term sample preservation.
With over 25 years of experience, American BioTech Supply excels at quickly developing customer solutions at competitive price points, while providing industry-leading service levels.