What's the difference between a purpose-built pharmaceutical-grade refrigerator and a common dorm or household refrigerator picked up at the local big box store? The CDC gives very clear guidance in their Vaccine Storage and Handling Tool Kit about why these style units are never acceptable.
In an excerpt from the guidelines, CDC advises: "Do not store any vaccine in a dormitory-style or bar-style combined refrigerator/freezer unit under any circumstances. These units have a single exterior door and an evaporator plate/cooling coil, usually located in an ice-maker/freezer compartment. These units pose a significant risk of freezing vaccines, even when used for temporary storage".
The CDC further warns that "potency is reduced every time a vaccine is exposed to an improper condition. This includes overexposure to heat, cold, or light at any step in the cold chain. Once lost, potency cannot be restored."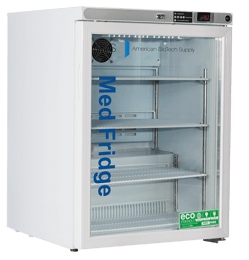 In addition to ensuring patient safety, use of a pharmaceutical-grade refrigerator or freezer will also minimize the risk of loss for high value vaccines and ensure compliance with Federal, State, and local regulations.
The following are the 7 key differences between a pharmaceutical-grade refrigerator and a household refrigerator:
Microprocessor Controller with Digital Temperature Display: Provides precise temperature control to meet today's standards and displays live sample-simulated temperature.


Forced Draft Circulation: Provides required temperature uniformity and recovery after door openings by utilizing an internal fan to help with air circulation.


Temperature Alarms: Equipped with audible and visual high & low temperature alarms.


Remote Alarm Contacts: Provides ability to connect to central building alarm systems.


Probe Access Port: Access port for digital data loggers or central building monitoring system temperature probes.


Superior Insulation: Up to 50% more insulation than domestic units.


Door Locks: Product security for high-value medications.
CME Corp is proud to have American BioTech Supply (ABS) as a strategic manufacturer partner. ABS has the largest selection of purpose-built vaccine storage units in the industry.
Ask your CME account manager for more information on ABS or any of your equipment needs.
---
About CME Corp: CME is a comprehensive healthcare equipment and turnkey logistics company providing personalized support and service. With service centers nationwide that offer more than 2 million medical products from over 2,000 manufacturers, CME works to be a healthcare system's complete equipment solution providing product selection, procurement, warehousing, assembly, staging, direct-to-site delivery, installation, and biomed services for all of its equipment.
For more information, visit our website.
About American BioTech Supply:
American Biotech Supply, a Horizon Scientific, Inc. company, provides a full range of temperature controlled equipment to our customers across the healthcare, laboratory and clinical research, pharmaceutical, and industrial segments. The extensive portfolio of quality products ranges from small capacity countertop refrigerators and freezers, including special purpose, application-specific models, as well as cryogenic freezers for long-term sample preservation.
With over 25 years of experience, American Biotech Supply excels at quickly developing customer solutions at competitive price points while providing industry-leading service levels.