Gastrointestinal (GI) endoscopy is incredibly helpful for the prevention, diagnosis, and treatment of many digestive diseases. Endoscopes used for procedures are notoriously hard to clean, and there are gaps and variations in implementing effective infection prevention practices for them.
Sure, proper cleaning protocols are absolutely critical, but if the endoscopes are not dried properly, this can lead to patient infections which no one wants! Choosing the right scope cabinet can help standardize cleaning routines, decrease infections, comply with The Joint Commission (TJC) inspections protocol, and keep track of all your endoscopes.
Here are three reasons to choose the InnerSpace Ventaire™ Cabinet:
New Multi-Society Guidelines on Reprocessing GI Endoscopes
The American Society for Gastrointestinal Endoscopy (ASGE) recently approved new guidelines for reprocessing flexible GI endoscopes. This guideline incorporates recent documented evidence, and has expanded specifications for the critical reprocessing steps of cleaning and drying GI endoscopes.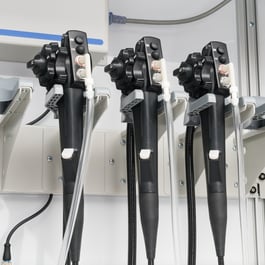 After washing the scopes, drying the scopes is extremely important. If scopes are not dried completely, bacteria will grow. Drying the interior of an endoscope should use a sufficiently prolonged flow of medical air through all accessible channels, ideally simultaneously and for at least 10 minutes, for greatest efficiency. The Ventaire™ cabinet complies with these expanded guidelines.
The Joint Commission (TJC) Inspections
Once endoscopes are dry, it is important to keep them in a germ-free environment prior to use. TJC advises HEPA filtration on all scope cabinets. The Ventaire™ cabinet has a HEPA filter unit that exchanges air inside the cabinet an average 150 times per hour and creates a positive pressure cabinet. The HEPA filter removes 99.9% of all particles, is incredibly quiet, self-contained, and works with all major scope manufacturers.
Scope Inventory Control
Tracking where scopes are located, when they were cleaned, and how long they have been in a scope cabinet has always been problematic. Tracking GI endoscopes has been mostly a manual process. InnerSpace has introduced an automated inventory control process in the Ventaire™ cabinet. It is an intuitive and easy to operate scope tracking system. Reports can be generated using the onboard USB port or via connection to the InnerSpace Smart Solutions website, where you can set up automated scope tracking reports and alerts.
Homepage status indicators show which scopes are drying, ready for use, and the length of time until expired. Advantages to using these indicators include:
Identify length of time a scope is ready prior to needing to be reprocessed

Visual scope management promotes a First In, First Out (FIFO) approach which can lead to cost savings

Easy to identify scope slot locations

Customizable scope description displays on homepage screen

Helps keep compliance by tracking hanging time of clean scopes
This unique tracking system also has a 10" touchscreen and unique customization abilities, making the Ventaire™ cabinet a one-of-a-kind product. The small footprint, large capacity, and competitive pricing are also pluses. For more information on this revolutionary product, please talk to your CME Corp Account Manager, visit our website, or call 800-338-2372.
---
About CME: CME Corp is the nation's premier source for healthcare equipment, turnkey logistics, and biomedical services, representing 2 million+ products from more than 2,000 manufacturers.
With two corporate offices and 35+ service centers, our mission is to help healthcare facilities nationwide reduce the cost of the equipment they purchase, make their equipment specification, delivery, installation, and maintenance processes more efficient, and help them seamlessly launch, renovate and expand on schedule.
About Innerspace: InnerSpace® is a Solaire Medical company who specializes in storage solutions for all areas of your healthcare facilities. We offer a cohesive system of carts, cabinets, and modular casework that improves staff and facility efficiency and an organization's bottom line. InnerSpace® has served the Healthcare market for over 20 years and is located in Grand Rapids, MI.