Since the latest COVID surge has died down, many hospitals and surgery centers are now tackling the mountain of backlogged surgeries. Healthcare facilities need to streamline surgical processes to maximize throughput. Choosing the right surgical cart is critical. Metro's team is consistently looking for ways to make supply transport and storage easier and more efficient for healthcare professionals. While researching storage and transport requirements for sterile processing operations, our team noticed that case carts lacked key features that could improve workflow.
Facilities were improvising to make their processes work, like using soccer cones to identify cart status, needing mittens to pull carts out of the cart washer, and fighting with carts to keep them tracking in a straight line and going around corners. The lack of a designed solution caused unnecessary inefficiencies throughout the day-to-day activities.
Introducing Metro CaseVue™, the all-new case cart that is designed around the day-to-day operations of facilities with enhancements that remove the improv and allow the sterile processing department to work more efficiently.
Difficult to Steer
Surgical case carts are bulky, heavy, and not very ergonomic. Much testing by Metro went into the selection of the right casters, to deliver a quiet ride while also reducing the level of effort needed to navigate the hallways between the sterile processing and surgical areas. In fact, this led to the industry exclusive use of a "fifth-wheel" on a case cart. The fifth-wheel steering option helps the user stay on a straight path with less effort and maneuver the cart around corners with ease. An added bonus is the casters are cart washable and maintenance free to reduce the total cost of ownership.
To make the carts even more ergonomic, an optional swing up handle is available. This handle can swing up to the comfortable height of the user, and position the user further from the cart, making the larger carts easier to see around, and even easier to steer.
Too Hot to Touch
After surgical carts come out of the cart washer, the handles are too hot to touch, and many hospital workers use mittens or oven mitts to move the carts around. Each CaseVue™ cart comes equipped with cool-to-touch handles mounted to each corner of the cart. The coating around the stainless-steel handle makes the cart easy to pull out of the hot cart wash, without the need for a protective cloth, and the Microban® antimicrobial protection keeps the handles cleaner between washes.
Hard to Identify Cart Status
Most surgical carts have no system to identify if the cart is clean or dirty. Hospital personnel have been creative and sometimes use soccer cones or other identifiers. Every CaseVue™, cart has a biohazard wheel to identify clean carts vs those carts containing biohazardous contents. This feature is conveniently located on the front of the cart for easy viewing and is less prone to damage caused by items placed on top of the cart.
The most novel feature of the cart is the optional colored flags. Each flag can instantly communicate the status of the cart with a quick look: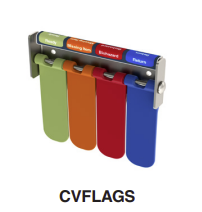 Green – cart ready for surgery
Orange – cart is missing item(s)
Red – dirty cart, ready for return
Blue – clean cart, ready for return/cancelled case

For easy access to materials, CaseVue™ offers roll-out shelves to access supplies without reaching the back of the cart.
Metro CaseVue™ carts come in five size options to cater to the various caseloads and requirements. Each size is available with a clear window or solid door design. The clear polycarbonate window is a blend form and function. While adding an aesthetic flair to the cart, this feature also allows staff to see the contents of the cart without continuously opening and closing the doors. If you are looking for a more classic cart design or have a need to obscure the contents of the cart, solid cart doors are also available to maintain the complete stainless-steel construction.

CME Corp partners with Metro on their entire product line. For more information on CaseVue™ or other Metro products, reach out to your CME account manager today.
About CME: CME Corp is a full-service healthcare equipment and turn-key logistics company providing personalized support and service. With service centers nationwide, CME offers more than two million medical products from a total of over 2,000 manufacturers. CME is a healthcare system's complete equipment solution by providing product selection, sales, warehousing, assembly, staging, direct-to-site delivery, installation, and biomedical services for all its equipment.
About Metro: For over 80 years, Metro has been the world's leading manufacturer of storage and transport equipment. From our innovative wire and polymer shelving lines to the revolutionary Starsys product line, and a broad range of healthcare cart solutions including the Lifeline emergency cart, Flexline procedure carts and Lionville series medication carts, Metro puts space to work in healthcare facilities of all sizes.