What makes a great surgical light?
It depends on who you ask.
Ask four members of a surgical team what is important in a surgical light, and you will probably get four different answers.
In the operating room the roles and duties of each member of a surgical team define important lighting features. Whether in an Ambulatory Surgical Center, Hospital, or Clinic, for every role there are unique lighting requirements and pain points.
Ask Equipment Planners, Facility Managers, or Biomedical Engineers and they will tell you that technology, installation, and maintenance support are most important.
So many different answers.
Why is that?
It comes down to the focus of the stakeholders.
For example, a Surgical Technician frequently assists surgeons (and other healthcare professionals) by positioning the surgical light on the patient and then ensuring that the light cast does not drift during the surgery or procedure. Ask a Surgical Technician to identify valuable surgical light features and focusing depth of field illumination, shadow dilution, and effortless movement of the light head will top the list.
Scrub Nurses on the other hand are interested in how easily and thoroughly surgical lights can be cleaned and sterilized. It is one of their responsibilities. Features on their wish list would include a low-profile light head with a small surface area, removable handles for autoclave sterilization, and generous articulation of the head to ensure a thorough cleaning.
While the Circulation Nurse may not be in the thick of the activity in the sterile field, they are responsible for recording the progress of the operation and accounting for instruments. To fulfill these side table tasks they need enough light to see. Surgical lights with the Endo Mode, Room Ambient, or Light Head Endo options would be almost better than sliced bread.
Last but by no means least, the Surgeon would tell you they need a large quantity of direct light to the procedure area without shadows or movement. And with so many people in a limited space lights that run cool are a big plus. Also on the wish list, a high color rendering index (CRI).
Enter APEX LED Surgical Lights
Burton, a medical lighting manufacturer since 1928, has just introduced the new APEX LED Surgical Light and it is revolutionizing the surgical experience with details that address the wide range of surgical team member needs and pain points. It is compact, lightweight, Made In America, and is taking high performance to a new level with: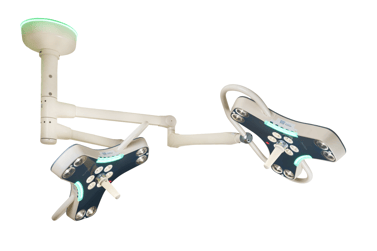 Superior Shadow Dilution - The combination of the Tri-Lobe, state-of-the-art LED Technology, and light head optics offers superior shadow reduction.
Easier Movement and Positioning - The balanced arm and lightweight head affords total freedom of movement.

Non-Drifting Arm - The entire system is engineered to maintain position.

Ease of Disinfection - The reduced surface area, versus traditional surgical lights, and seamless construction supports cleaning efficacy.

Total System Integration – Designed by medical lighting experts, the APEX LED perfectly integrates light sources, optics, control, and mechanical construction into a superior augmented product for the surgical environment.
Out of the Box Simplicity – The APEX LED light system is easy to install and completely accessible for preventative maintenance.
Industry Leading 5 Year Warranty and Support
---
CME's experts will work with your equipment planners and facility managers to find the best surgical lights for your healthcare facility, keeping your project on time and in budget.
Direct-to-Site services assure that surgical lights are on site when it is convenient for you and ready for your electricians to install.
And, CME Biomedical Technicians will keep your APEX LED surgical lights up and running with preventative annual maintenance, service, or repair.
We would love to learn more about your specific needs. Get in touch with us at webcs@cmecorp.com
---
Learn more about medical equipment purchases with these blogs from the CME library:
https://blog.cmecorp.com/4-ways-cme-can-help-you-cope-with-healthcare-equipment-delays
https://blog.cmecorp.com/4-equipment-delivery-and-setup-keys-for-your-healthcare-facility
https://blog.cmecorp.com/cme-corp-the-easy-button-for-buying-healthcare-equipment
---
About Burton Medical: Burton Medical designs, manufactures, and distributes high-quality examination and surgery lighting equipment. Since its inception in 1928, Burton has been known for superior quality, exceptional value, and long-lasting solutions to complex lighting issues facing physicians, surgeons, and veterinarians throughout the world.
Burton is certified as an ISO 13485 manufacturing facility, the global standard for medical device manufacturers. Burton's products meet UL/IEC 60601-1, EN/IEC 60601-2-41 and CAN/CSA C22.2 NO. 601.1 M90 certified standards for the U.S. and European markets.
As an FDA-registered facility, Burton manufactures products to meet all FDA requirements, UL and CE certification standards.
About CME: CME Corp is the nation's premier source for healthcare equipment, turnkey logistics, and biomedical services, representing 2 million+ products from more than 2,000 manufacturers. With two corporate offices and 35+ service centers, our mission is to help healthcare facilities nationwide reduce the cost of the equipment they purchase, make their equipment specification, delivery, installation, and maintenance processes more efficient, and help them seamlessly launch, renovate and expand on schedule.