There is a clear need to better understand and monitor the long-term effects of COVID-19, and that starts with increasing PFT availability by adding testing equipment wherever possible.
Much attention has been focused on the ever-rising death toll from the COVID-19 pandemic. Of course, the "light in the darkness" is that, thanks to the heroic efforts of physicians, respiratory therapists, nurses, and the rest of the clinical team, most people infected by the virus do, in fact, recover.
In addition, many who get infected don't even encounter an inpatient care team. These mild COVID-19 cases are managed much like other respiratory infections - with supportive care and other therapies prescribed through an ambulatory care provider. But as we enter the third year of this pandemic and learn more about the SARS-CoV-2 virus, we continue to encounter more and more surprises.
Mild COVID-19 cases
One of the more recent discoveries is that while those so-called 'mild' cases of COVID-19 may not have the dramatic, severe symptoms of cases requiring hospitalization, mild cases may be just as likely to cause insidious damage with long-term health consequences.
Just how bad that damage can get is still being investigated, and pulmonary function testing can and should be a part of that investigation.
The link between mild cases and 'long COVID'
A new study from the American Thoracic Society (ATS) ominously hints that for some, it may actually be an eternity. A team from Ireland found that ongoing fatigue, malaise, and shortness of breath were rather common even two to three months after an initial COVID-19 diagnosis1.
In fact, the study reported that over 60% of the cohort felt they had "not returned to full health" after a median time of 75 days had elapsed from diagnosis to follow-up. And while the study did include some more severe cases, it doesn't bode well for the mild ones, as the team found none of their measures were associated in any way with the initial severity of the case.
A similar study conducted here in the United States found similar results. 177 people with confirmed COVID-19 were followed for between 3 and 9 months by a team with the University of Washington. They found a slightly lower prevalence of what is now being called 'long COVID', with roughly a third of the subjects reporting ongoing symptom burden. However, in this group, they found 14 (8% of the cohort) who had symptoms severe enough to affect their activities of daily living, and nine of these subjects had not even been hospitalized.2
This study also is sure to highlight that while the percentage prevalence may be objectively low, with the now-hundreds of millions of cases worldwide, the potential public health and economic consequences of this level of debilitation could be severe.
The Benefits of Spirometry at the Point of Care
Moving spirometry to the point of care not only makes things easier on your patients, but has the potential to massively increase the set of data available for research in several different aspects. Regular lung 'checkups' have usually only consisted of some auscultation along with a handful of interview questions.
As a result, diagnosis of conditions like COPD is routinely delayed. Delayed diagnoses have been associated with increased healthcare costs and worsened outcomes, and some studies have suggested that this is an area where primary care providers can make substantial contributions to improving the quality of the overall healthcare system.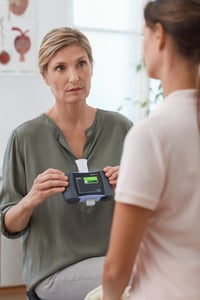 This is not a heavy lift, either. The unique ultrasonic TrueFlow™ technology at the heart of every EasyOne Air requires no calibration, meaning your staff doesn't have to spend their time wrestling with syringes; they can simply grab the device, enter the patient's data on the color touchscreen, and get to work.
The EasyOne Air can also be used with a computer USB or Bluetooth, allowing for additional incentive and coaching screens to make every test consistent and valid. Integration with major EMR systems allows for rapid clinical decision-making and care coordination, as well as simplified data collection for research.
That means with one device, you can easily establish baseline airflow status for every patient - even those potentially at risk for a chronic respiratory condition (including your COVID-19 population), and you can keep an eye out for anomalies before they become noticeable symptoms.
The benefits of complete PFT at the point of care
NDD also has a similarly practical solution for DLCO testing. The EasyOne Pro™ line eliminates the need for the expensive, bulky 'body box' plethysmograph usually associated with measuring DLCO, thus bringing DLCO capability to any desktop or cart in your office. This means, once again, virtually any practice now has the power to screen for potential COVID-19 sequelae (like pulmonary fibrosis) much earlier than before.
For more information on the suite of products in the EasyOne Pro™ line, please feel free to talk to your CME Corp Account Manager, visit our website, or call 800-338-2372.
---
About CME: CME Corp is the nation's premier source for healthcare equipment, turnkey logistics, and biomedical services, representing 2 million+ products from more than 2,000 manufacturers.
With two corporate offices and 35+ service centers, our mission is to help healthcare facilities nationwide reduce the cost of the equipment they purchase, make their equipment specification, delivery, installation, and maintenance processes more efficient, and help them seamlessly launch, renovate and expand on schedule.
About NDD: NDD Medical Technologies offers innovative, easy-to-use pulmonary function testing instruments that help clinicians diagnose and treat lung disease with unmatched precision. The EasyOne® spirometry and complete pulmonary function testing products are the most consistent and user-friendly lung function testing equipment made today.