Electronic waste or 'e-waste" has become a growing problem for landfills and recycling centers. As electronics age, fail or become obsolete they need disposal. If not adequately handled, e-waste has the potential to leak toxic metal alloys and other components into groundwater sources.
While this sounds entirely avoidable, more than 20 million tons of e-waste are produced annually. This includes waste from such sources as hospitals, medical practices, and nursing homes. How can you minimize the potential pitfalls in disposing of outdated and broken electronics? Follow recycling mandates and guidelines while outfitting your facility with compliant and greener solutions to electronic necessities.
Companies like seca are taking the initiative. seca strives for all of their scales to be 100% green, manufactured with responsible yet economical raw materials, resources, and energy.
The seca 360 system line of wireless scales are designed and operated with care and responsibility in mind. All accumulators and batteries in these devices comply with the EC Directive 2006/66/EC and are therefore free of Cadmium and Quicksilver. Compliance with these standards is checked internally and regularly audited by independent laboratories to ensure obedience and an error-free process.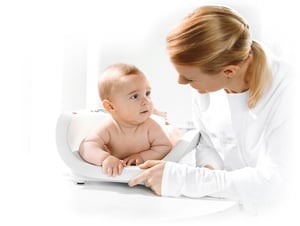 On top of all these eco-conscience initiatives, all seca devices comply with the European WEEE Directive on reducing electronic waste, the RoHS Directive, and REACH regulations. The manufacturer follows these initiatives to restrict the use of hazardous substances and the requirement to register, assess and license the use of all regulated chemicals. Also, seca complies with the European Union's decision prohibiting the use of biocide dimethyl fumarate.
All seca products are nearly 100% recyclable. Components are labeled with recycling codes for reuse, and the packaging is marked with the green dot to differentiate it from standard waste. To help minimize their impact on your facilities waste stream, the amount of packaging used for shipping sec products is regularly checked and reduced to a minimum. Any customer scales taken out of service and returned to seca are professionally reconditioned or, if needed, disposed of properly.
It doesn't stop there. Intelligent technology reduces the energy consumption of seca products to a minimum, with many seca products being equipped with an automatic shut-off function to help drive energy saving initiatives.
"Nothing weighs more than life."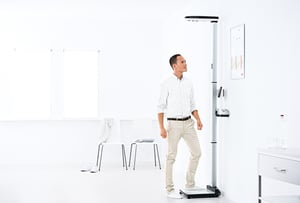 It's seca's belief that working towards good health takes place not only in a medical facility but everywhere on this planet. Each effort that keeps you healthy is worth making. Choosing to purchase seca products allows your facility access to high precision and faster diagnosis, all while doing your part to offset your facility's environmental impact. In fact, offsetting their ecological impact is something the manufacturer takes to heart at their production facilities.
seca avoids the use of toxic materials in all lacquers, synthetics, and metals. In keeping with RoHS and REACH directives and its exact specifications for materials and components used in production, seca excludes all hazardous substances. The company regularly confirms that suppliers comply with the general framework and working conditions required by procurement guidelines.
It is their goal that everything seca does on behalf of the environment not just looks good on paper, but is comprehensible, verifiable and implemented 100%. When you update your measuring systems and scales with innovative solutions from seca you are making a sound choice for not only your patients but also the environment.
CME Corp is a proud partner with seca. For more information on seca or any of our services please call 1-800-338-2372.
---
About CME: CME Corp is the nation's premier source for healthcare equipment, turnkey logistics, and biomedical services, representing 2 million+ products from more than 2,000 manufacturers.
With two corporate offices and 35+ service centers, our mission is to help healthcare facilities nationwide reduce the cost of the equipment they purchase, make their equipment specification, delivery, installation, and maintenance processes more efficient, and help them seamlessly launch, renovate and expand on schedule.