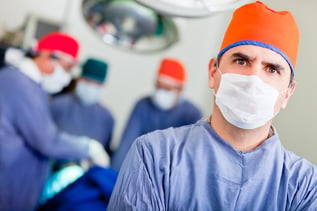 In a peer-reviewed study published in the American Journal of Infection Control, infection data from 12 months before and after the installation of the VidaShield infection prevention system in the special care unit (SCU) of a hospital in Kentucky was analyzed. Overall infection rates were reduced by 60% and the rates of common healthcare-associated infections like Clostridium difficile, CAUTIs and CLABSIs were reduced by more than 60%, despite no reported changes in the amount/type of cleaning done, the infection control protocol or reporting procedures. (depicted below)1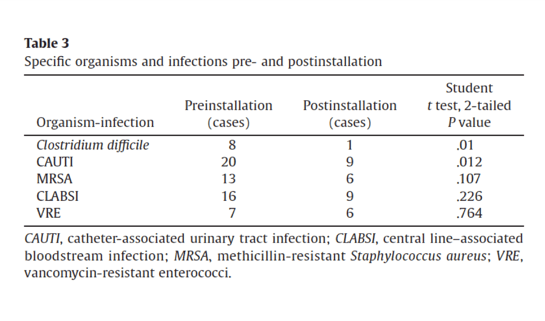 The Benefits of VidaShield
Healthcare facilities who have installed VidaShield have seen impressive results in improving both the air and the accumulation surface contaminations. Lowell General Hospital in Massachusetts, found airborne bacteria levels in the ICU were reduced 69% and surface bacteria levels were reduced 51% after installing VidaShield systems.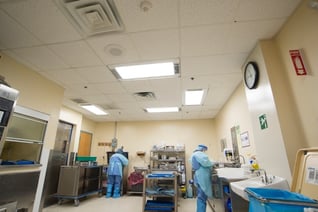 Desert Springs, Hospital in Nevada installed units in a controlled-access unit within their emergency department. Results of the VidaShield testing showed that airborne bacteria levels were reduced by 80%, hence reducing surface bacteria by 66%. In addition, hospital nurses and staff reported improvement in air quality and a reduction in odors in the testing area as well as a noticeable improvement in their allergy symptoms.
Improving USP 797 Compliance
The VidaShield technology has also been successful in reducing contamination in a hospital pharmacy environment as demonstrated by the peer-reviewed article in AJIC entitled "Effectiveness of a shielded UV-C air disinfection system in an inpatient pharmacy of a tertiary care children's hospital." A statistically significant decrease of 78% and 62% was observed for fungal and bacterial particles, respectively in the study conducted at Le Bonheur Children's Hospital in Memphis, TN in 2016-2017. 2
How VidaShield Works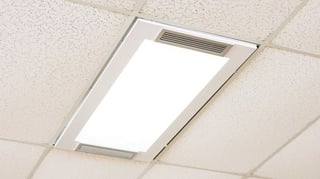 VidaShield is a fast, 24/7, active air purification system that uses UV-C to reduce bacteria, viruses and fungi from the air. This patented device is uniquely designed by combining an ultraviolet germicidal irradiation (UVGI) chamber and air circulating fans with an overhead ceiling light. Since it is an engineering control, no person needs to operate the system once it is installed.
Odors Dimished, Absenteeism Lowered
It was reported that staff absenteeism was lower on the wing where the VidaShield units were installed. Several nurses remarked that their allergy and asthma symptoms improved. According to additional hospital staff, healthcare odors stemming from incontinence, wound care and infection were noticeably diminished throughout areas where the air purification systems were in use. The air smelled cleaner and fresher.
"HAIs are a significant concern for our customers," says KC Meleski, VP of Sales for CME Corp (CME). "VidaShield offers an effective solution. We especially like the fact that it installs easily and can be placed where it is needed most; directly over the patient bed for example."
CME has a complete line of products that will help combat HAIs. Call CME 800.338.2372 for an account manager that can provide you with information about VidaShield or any of these innovative products
1Tina Ethington, MSN, RN, CEN, NE-BC, Sherry Newsome, BSN, RN, MBA/MNA, Jerri Waugh, BSN, RN, MBA/MHA, Linda D. Lee, DrPH, MBA, Cleaning the air with ultraviolet germicidal irradiation lessened contact infections in a long-term acute care hospital, American Journal of Infection Control, December 2017 https://doi.org/10.1016/j.ajic.2017.11.008
2Don Guimera, MSN, RN, CIC, CCRP, FAPIC, Jean Trzil, PharmD, Joy Joyner, RN, CIC, Nicholas D. Hysmith, MD, FAAP, Effectiveness of a shielded UV-C air disinfection system in an inpatient pharmacy of a tertiary care children's hospital, American Journal https://doi.org/10.1016/j.ajic.2017.07.026