Mid Central Medical has worked with CME for many years to deliver quality stainless steel equipment to the operating rooms and surgery centers across America. With quick reply times on quotes and other customer requests coupled with a less than 24-hour ship program, looking for products from Mid Central Medical is a great choice for your O.R. equipment needs.

About Mid Central Medical
Mid Central Medical has served the medical industry in North America for over 20 years. Started in the early 1990's by a Minnesota native, it has grown into a leading manufacturer of medical equipment for the operating rooms in America's hospitals and surgery centers. Founded on the principles of integrity and transparency, Mid Central's products are built to stand the test of time. As the healthcare environment is very specialized, Mid Central ensures that their products meet and exceed the needs of medical professionals.
As they develop and design their products, Mid Central takes into consideration not only infection control and infection prevention but also service—making sure that medical professionals have the tools they need so they can focus on caring for patients and that positive outcomes are open to everyone. Mid Central wants everyone that comes in contact with their company to have a positive result—and as their products play a direct role of responsibility for people's lives, Mid Central takes care to design their products and services so every outcome is positive.
"Everyone in every relationship has to succeed and that's what drives us at Mid Central Medical!"
Mid Central Medical + CME
In their partnership with CME, Mid Central Medical offers more than just a catalog of products. With fast response times and manufacturing capabilities, they work closely with CME to tailor a product to suit your exact needs. The goal is to get the solutions to medical professionals to help them in their daily tasks—always 'improving life'.

Over Operating Tables
Mid Central designed these tables to straddle the O.R. table during surgery. This keeps instruments and other equipment close to their point of use, making it easy for surgeons and assistants to reach the tools they need.
This table is constructed of fully welded stainless steel and is manufactured to Mid Central's healthcare standard for infection prevention. It adjusts in height from 36" to 56" with a crank handle from either end, though the handle can be removed and stored inside the leg so as not to interfere with the sterile drape. The casters are heavy-duty 4" casters with two locking so it can be securely held in place. Available in 4 standard sizes, you can surely find a size the meets your needs. If not, we can make custom sizes as well.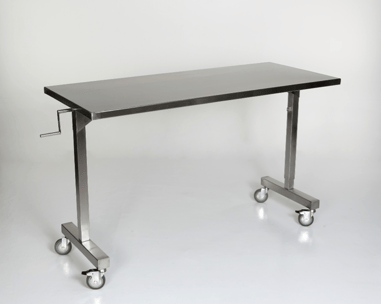 Underpad Arm & Hand Surgery Tables
In the ever changing healthcare industry, there is a current movement in hospitals to take minor cases out of the hospital OR and perform them in a same-day surgery center instead, minimizing costs and creating convenience for patients. In these facilities, stretchers are sometimes required to perform arm and hand surgery instead of an OR table. Mid Central designed this line of arm-hand surgery tables to fit this need.
Underpad Arm and Hand Surgery tables are designed to slide under the pad of the OR Table, stretcher or stretcher chair, to be held in place by the weight of the patient. This makes it easy to perform surgery on a wide range of stretchers using the same table. There are 3 different material types to choose from, as well as several base options (including a mobile base). Purchasing for your needs is also simplified, as Mid Central provides a special buying guide to help every customer determine the best option for their facility.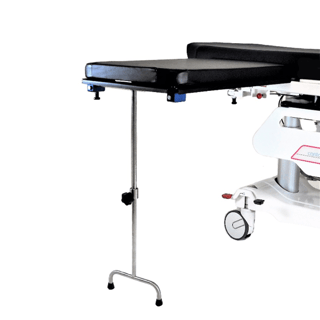 Fully Stainless Steel IV Pole
There is a constant quest in the IV Pole area to conquer the 3 main challenges of IV Pole.
Material- finding a clean material that will not rust or corrode.





Weight- finding a base that is heavy enough to support multiple infusion pumps and still be mobile without becoming a tipping hazard.





Casters- finding a caster with a wheel that grips smooth floor (something often neglected or skimped on).
Mid Central set out to conquer all three of these issues at once with their rendition of the IV Pole. Starting with an all stainless steel construction: base, pole, and top. With 4 top configurations available to meet any need, the Mid Central IV Pole has a base heavy enough to hold up multiple infusion pumps, as well as a heavy-duty stainless steel construction.
The final step was to add a great caster, which Mid Central did by designing their IV pole with a superior hooded ball bearing caster with MonoTech wheels. Made to reject floor debris and provide ultimate floor protection, these wheels guarantee a quiet, cushioned ride as they roll over obstacles with ease.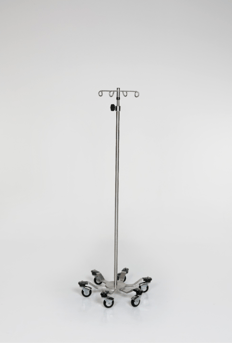 For all your stainless steel equipment and OR Table accessory needs, CME is dedicated to providing you the best possible products through Mid Central. Whether it is a simple Clark socket, mayo stand, patient transfer board or a custom product, CME and Mid Central will fulfill your needs. If you or your healthcare facility is looking for products from a trustworthy company always innovating for both quality and patient care, look no further than products built by Mid Central to be delivered and set up for you by CME.
Ready to get started on staffing your healthcare facility with the best products in the industry today? Contact your CME representative for more info.
---
About CME: CME Corp is the nation's premier source for healthcare equipment, turnkey logistics, and biomedical services, representing 2 million+ products from more than 2,000 manufacturers.
With two corporate offices and 35+ service centers, our mission is to help healthcare facilities nationwide reduce the cost of the equipment they purchase, make their equipment specification, delivery, installation, and maintenance processes more efficient, and help them seamlessly launch, renovate and expand on schedule.