Lately, electronic medical records (EMR) have been taking center stage amid a series of high-profile partnerships involving tech titans Apple and Amazon. In light of this, it is important for facility managers to keep in mind that after an EMR software is decided on, hardware, accessories and infrastructure become key.
With millions of lives, billions of dollars and countless points of sensitive data at stake, the industry is highly incentivized to have the most accurate and secure facts about its patients. However, the path to securing this intelligence isn't always so obvious for facilities. The easiest solution can usually be found through the supply chain.
Going Live
Like a construction project, EMR upgrades first require a solid foundation – one that can sustain an advanced telecommunications network throughout facility. This foundation consists of a variety of CME-sourced products such as wall arms and workstations on wheels (WOWs).
This level of infrastructure serves as the skeleton to a facility's EMR musculature, and it is a critical phase of the EMR upgrade that cannot be overlooked. There is much planning that goes into this phase and all the key players – from the nursing staff and surgeons to the supply chain and IT managers – need to work together in order to optimize the network.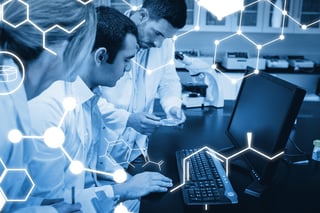 After selecting the hardware and the various IT workstations, wall arms and carts, the implementation phase begins. CME can be a great partner in this phase. We can perform assembly, hardware integration and cable management in one of our local warehouses. We can then deliver and install these completed workstations where and when you need them. Rolling out a go-live EMR project has many moving parts and CME will collaborate with all of the key players to employ a streamlined and orderly phase-in process.
Once the proper go-live products are delivered and installed, the teams can prepare for the next phase: sourcing in the equipment that connects to the EMR.
EMR made EASY
Among its more than 2 million products from more than 2,000 manufacturing partners, CME offers a suite of equipment solutions that simplify the accessing of valuable EMR. From scales to heart monitors, we can source a variety of EMR-ready equipment to upgrade your facility with the best hardware to feed your data network.
Combing through hundreds of products certainly can be daunting, so it's best to consult one of our equipment experts to build a custom work order that takes into account all the specific needs of your facility. At CME, we pride ourselves on our collaborations – especially when it comes to IT and EMR solutions.
From sourcing products across multiple manufacturers, to delivering, staging and installing them with minimal disruption to healthcare operations, our logistical expertise serves as an "easy button" for facilities looking to upgrade to a modern EMR system. View our latest Equipment Services video.
For more information or a professional EMR equipment and logistics consult, call CME at 800-338-2372.
---
About CME: CME Corp is the nation's premier source for healthcare equipment, turnkey logistics, and biomedical services, representing 2 million+ products from more than 2,000 manufacturers.
With two corporate offices and 35+ service centers, our mission is to help healthcare facilities nationwide reduce the cost of the equipment they purchase, make their equipment specification, delivery, installation, and maintenance processes more efficient, and help them seamlessly launch, renovate and expand on schedule.