Healthcare facility operators often find themselves in the midst of an upgrade, with 70 percent of hospitals planning or actively undergoing projects, according to a 2016 Hospital Construction Survey. While these projects can vary greatly in scope and size, one key factor can usually contribute to their success – collaboration.
IT and electronic medical record (EMR) upgrades require particularly close collaborations due to the nature of such projects and the sensitivity of the information being handled.
Recently, CME was involved in a ground-breaking endeavor for a nationally ranked hospital to upgrade the facility to the Epic (eCare) EMR for clinical and financial applications including upgrading the end-user computing hardware, peripherals and infrastructure across most of its departments. The $20 million project was on a strict eight-month timeline and implementation of the large-scale project would involve tight coordination between multiple stakeholders, all without disrupting the day-to-day operations of the hospital.
Building Partnerships
The hospital had enlisted Medisource Consulting to direct the strategic planning and eCare hardware project. CME's expertise in equipment purchasing, procurement and logistical services – including installation and maintenance – combined with Medisource's project management prowess laid the framework for a milestone-based implementation plan.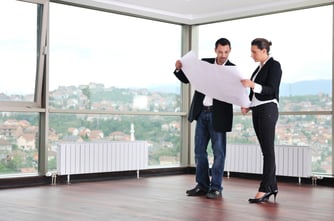 Opening lines of communication and establishing a governance structure for the project were two early pillars that fostered the successful partnership. CME and Medisource established a steering committee to ensure all key stakeholders were represented and approved of the strategic implementation plan. Bi-weekly cross-team meetings were held to facilitate an exchange of ideas, and a work schedule was published to keep everyone on the same page – literally and figuratively.
CME assisted vendors to ensure equipment was standardized. This process included providing quotes, timelines, organizing vendor site visits and product demonstrations and enlisting the support of CME's expert installation and project management professionals.
Supply Chain Success
With CME providing equipment delivery and installation and Medisource leading the project management and analytical support, the project was completed on time and under budget thanks to the efforts of all stakeholders. With more than 100 team members in all, it was truly the collaborative method that lead to the successful outcome. By maintaining open lines of communication and clearly delineating tasks between the project leads, CME was able to handle the project from the logistics and delivery while Medisource was responsible for the planning inside hospital walls without any confusion or inefficiencies.
The Medisource partnership is just one example that illustrates not only the importance of collaboration but also how vital it is to include various supply chain stakeholders in facility projects. Knowledge of equipment needs and supply chain solutions are only a piece of the puzzle. Together with project management, hospital staff and departmental health experts this top-ranked national hospital was able to convert to the Epic (eCare) EMR applications seamlessly.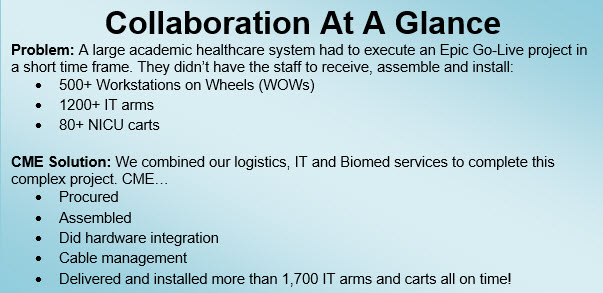 At CME, collaboration is vital to the success of our customers and we are committed to building the most powerful partnerships we can to provide top-of-the-line services. CME is an equipment-centric distributor that has a comprehensive portfolio of related services to better serve our healthcare customers across the country. Please view our latest Equipment Services video. Call us at 800-338-2372 to begin your next strategic collaboration with CME.
---
About CME: CME Corp is the nation's premier source for healthcare equipment, turnkey logistics, and biomedical services, representing 2 million+ products from more than 2,000 manufacturers.
With two corporate offices and 35+ service centers, our mission is to help healthcare facilities nationwide reduce the cost of the equipment they purchase, make their equipment specification, delivery, installation, and maintenance processes more efficient, and help them seamlessly launch, renovate and expand on schedule.