When it comes to meeting your medical storage and transport needs, there are few companies that work harder than Intermetro to provide the best products possible. In teaming up with Intermetro, CME is proud to provide you with the most effective products for your medical storage needs—and with a company that has spent decades learning the ins and outs of the business.

About metro
A world leading manufacturer and supplier of storage and transport products for over 85 years, Metro's focus is to provide innovative solutions that optimize space, workflow and productivity. Metro designs their products to address application-specific requirements that ensure Foodservice, Healthcare, Industrial, Labs and Grocery professionals have the right tool for the job. These design features, adjustability, corrosion resistance, antimicrobial protection, modularity, ergonomics, durability and more, is what separates Metro from others in the markets they serve.
By providing the best in shelving, carts, workstation solutions and more, Metro makes a point to make the world more organized and efficient. At Metro, the goal is to put space to work—in the most productive and efficient manner. This is why CME works hard to partner with them to bring you the best.
Metro: Featured Products
There are a few products that Metro is known for providing well that CME features, ranging from carts to shelving to workstations and more.
Metro offers cart product lines to fit whatever your needs are, ranging from Lifeline, Flexline, Starsys, Lionville & Basix Carts. These Metro carts range from basic utility carts to carts optimized for specific needs, whether that be emergency code response, anesthesia, isolation, procedure, treatment, or medication storage and delivery.
These carts are equipped with superior maneuverability and made for organization and easy identification, with self-closing, full access drawers in multiple heights. There are also drawer divider systems, and tamper evident seals to keep up security, as well as infection control with corrosion-proof polymer materials and Microban® Antimicrobial Product Protection.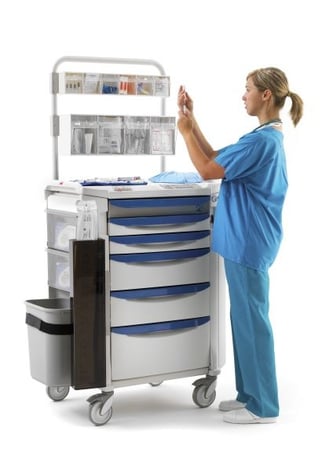 From the industry-standard Super Erecta Wire Shelving to the MetroMax family of advanced polymer shelving, Metro has a shelving solution designed to meet the wide variety of needs and applications in your medical facility. MetroMax shelving is as strong as steel and features a corrosion proof design with built-in Microban® Antimicrobial Product Protection and smooth edges and surfaces to protect delicate sterile wrapped surgical kits.
New from Metro is their qwikSIGHT Basket Supply System, a cantilever storage solution that keeps supplies in sight making them quicker to find, access, retrieve and restock. Its unique design protects personnel and supplies from rips and tears commonly found with similar products in the market.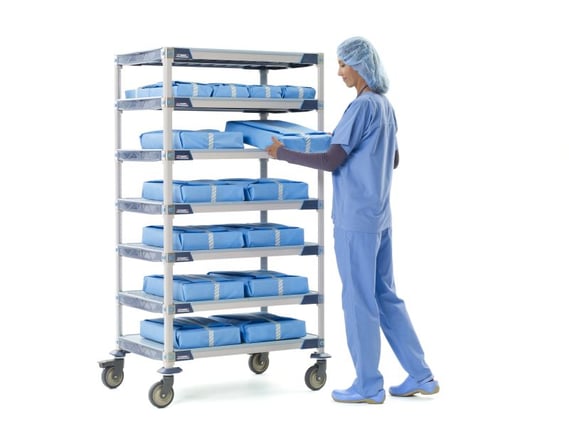 Workcenters + Worktables
More than anything, Metro is dedicated to helping you find products that allow you to do your best work—which includes providing you with products that can expand as your practice expands. One of the ways they do this is with their mobile and stationary work centers and tables, which make a point to put the power to change anything in the hands of the end user.
With dozens of products built to meet your needs in whatever setting, Metro provides both mobile and stationary workstations, including under-counter units, full room configurations, and standalone centers that allow you to organize and store in whatever ways you need. Their worktables work in a similar fashion—in models that not only meet whatever your needs might be at first but over time as well.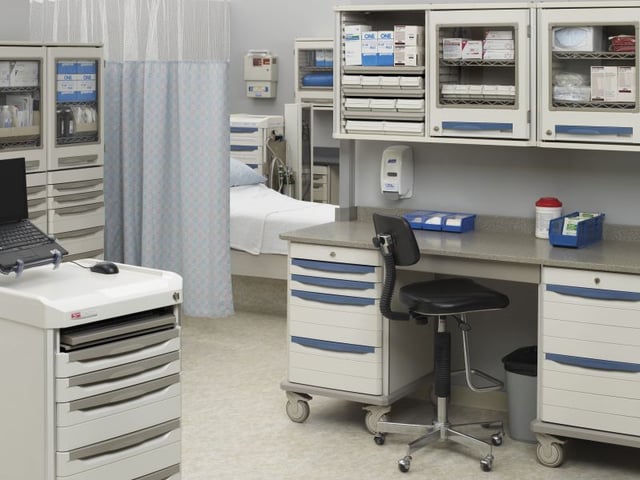 In partnering with Metro, CME is working hard to provide you with the products that will help meet your storage needs, no matter what they are, or how much you need. With almost 9,000 different components built to accommodate your specific demand, Metro is dedicated to providing products with the latest innovations—just as CME is dedicated to providing the best consultations, service and product setup for your medical facility's needs.
Ready to get started on stocking your healthcare facility with the best products in the industry today? Contact your CME representative for more info.
---
About CME: CME Corp is the nation's premier source for healthcare equipment, turnkey logistics, and biomedical services, representing 2 million+ products from more than 2,000 manufacturers.
With two corporate offices and 35+ service centers, our mission is to help healthcare facilities nationwide reduce the cost of the equipment they purchase, make their equipment specification, delivery, installation, and maintenance processes more efficient, and help them seamlessly launch, renovate and expand on schedule.