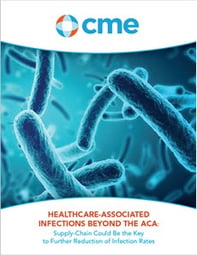 Healthcare-associated infections cost facilities billions of dollars and cause 99,000 deaths annually according to the Centers for Disease Control and Prevention. At CME, we consider this trend to be nothing short of tragic, but we do have some answers.
CME's latest eBook, Heathcare-Associated Infections Beyond the ACA: Supply-Chain Could Be the Key to Further Reduction of Infection Rates, dives into this subject matter and gives actionable solutions to facility managers and infection control leaders alike.
In it, you will learn about different products, technologies and practices that can protect your facility and your patients from HAI. Solutions range from ultraviolet light that attacks an organisms' DNA and RNA to the anti-microbial properties of copper that break down the cell membrane and protect surfaces from bacteria. You also will learn about contamination-detection products, hands-free infection prevention and more.
In 2010 the Patient Protection and Affordable Care Act (ACA) introduced new criteria that would be used to evaluate hospitals for Medicare reimbursement which included infection rates and moved an already high-profile issue into a bigger spotlight. While facilities have made significant progress on reducing infection rates and securing those coveted Medicare reimbursements, infections still persist. What more can a healthcare facility do to protect its patients from these stealth killers? The answer is to move beyond the standard infection control and prevention plans and integrate equipment into the infection-fighting arsenal.
Download the eBook today to learn more about this important topic. Let CME be your HAI expert.
Find out what types of products can be easily integrated into the facility's infrastructure to reduce infection rates and increase positive patient outcomes.
CME has developed a landing page where you can find supplementary HAI information - CME: Healthcare Associated Infection Prevention Page