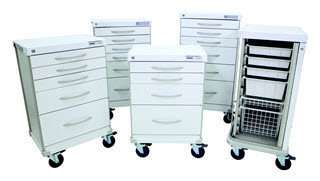 When selecting a small cart for your department, many factors influence the decision for the right cart. InnerSpace's key features and benefits will help you address all of your small cart needs.
Problem - Infection Control:
The cleanability of medical carts is key to preventing bacteria growth. In today's healthcare environment, carts need to be easy to clean with minimal recessed surfaces.
Solution:
InnerSpace 7600 Small Carts feature the following:
All surfaces are external facing – no cracks or crevices to clean

Antimicrobial plastic external drawer pulls

Smooth white top – does not hide spills

No gaps or holes

Overlay drawer fronts – reduces crevices and fluid entry points into the drawers
Problem - Ease of Use:
The ability of a cart to perform can have a direct effect on the quality of care a patient receives. Carts that are difficult to maneuver or hard to use result in an inefficient work environment.
Solution:
InnerSpace 7600 Small Carts feature the following:
Self-closing drawer glides to reduce noise and slamming action

Oversized locking pedals – convenient to unlock the casters when ready to move

Front facing key lock – no need to turn the cart when unlocking

Full extension drawers – drawers are accessible to re-stock with supplies

Lightweight aluminum body for easy maneuverability

Optional pull out work surface – slides to both the left and the right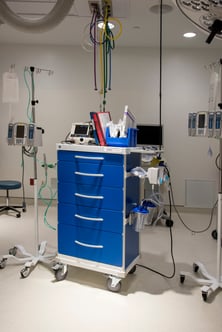 Problem - Flexibility:
In today's healthcare setting, the ability to adapt your carts to changing needs is key. Configurations that meet your initial needs can easily be re-configured in the future.
Solution:
InnerSpace 7600 Small Carts feature the following:
5 standard footprints of carts

Full line of side, back, and top mounted accessories – can also be field installed

3 different drawer sizes in 13 different colors

Build your own or specific configurations

Basic storage carts options or use specific (crash, anesthesia, isolation, line, pediatric emergency, suture, airway)
Problem - Security:
Security is a top priority in healthcare. Ensuring the right person has the right access to the right supplies at the right time is key in maximizing patient outcomes.
Solution:
InnerSpace 7600 Small Carts feature the following:
Debris free locking system – lock bar will not jam

Standard front facing key lock

Optional break-a-way locks

Optional 4 digit keyless entry

Optional prox card access

Optional ILS – Intelligent locking system – web based locking management system for prox card access
InnerSpace's flexible cart solutions are built to optimize and maximize available storage space and provide supply management, easy supply retrieval, and more efficient workflow. InnerSpace is the leading position in specialty clinical storage for over 30 years, with integrated solutions in 80% of US hospitals. CME is proud to partner with InnerSpace and provide the InnerSpace products to our customers. Call 800-338-2372 for more information.
---
About CME: CME Corp is the nation's premier source for healthcare equipment, turnkey logistics, and biomedical services, representing 2 million+ products from more than 2,000 manufacturers.
With two corporate offices and 35+ service centers, our mission is to help healthcare facilities nationwide reduce the cost of the equipment they purchase, make their equipment specification, delivery, installation, and maintenance processes more efficient, and help them seamlessly launch, renovate and expand on schedule.