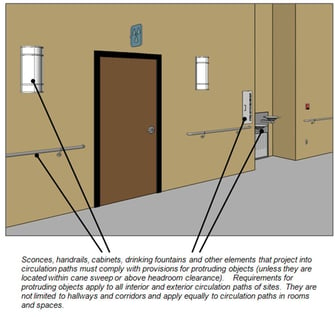 Healthcare facilities nationwide are charged with caring for people of all walks of life, including the approximately 56.7 million Americans living with disabilities. Healthy People 2020, a national initiative to set health priorities for 2010-2020, indicates that people with disabilities are more likely to experience delays and difficulties accessing healthcare. One way to ease this burden is to ensure our facilities are properly equipped to provide first-class care for disabled persons.
While the 1991
Americans with Dis
abiliti
es Act
(
ADA) often brings to mind blue handicapped-parking
spaces and accessibility ramps, there is still a lack of awareness in the development process, and facilities often fall short in sourcing the proper furniture and equipment to reach full ADA compliance and provide handicapped patients with a seamless care
experience.
Furthermore, the U.S. Access Board recently issued new standards for medical diagnostic equipment (MDE). The Access Board's guidance, combined with the predetermined ADA standards, provide healthcare facilities and the purchasing agents associated with these facilities a comprehensive guide on outfitting a care center properly. CME is committed to providing our customers with all their equipment and furnishing needs to achieve ADA compliance.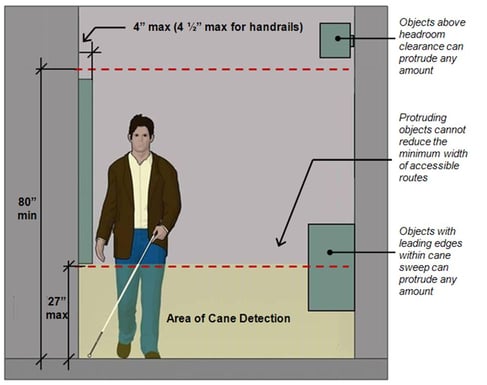 Achieving ADA Compliance
One of the most common obstacles to achieving ADA compliance is the protrusion of hazardous objects. ADA standards require that facilities limit the projection of objects into all circulation paths, not just predetermined accessible pathways. Circulation paths include hallways and corridors as well as exterior passageways and patient rooms.
People with vision impairment have a heightened risk of injury or incident involving protruding objects, a scenario that has influenced many of the ADA standards. For example, objects within the accepted "cane sweep" area or objects that are above standard height clearance are not considered hazardous.
Common protruding items can include light fixtures, drinking fountains, handrails and more. They can be mounted on posts or free standing above detectable elements. Additionally, they can be recessed and yet still protrude into the common walkway. The guidelines provided by the ADA and explained further by the Access Board are specific and impact multiple elements of a healthcare facility from design to purchasing and beyond.
ADA Compliance Solutions
CME provides solutions for healthcare facilities and ensures that every place of care is outfitted properly for every type of patient. We partner with manufacturers across the nation to provide our clients with every product and service they need to outfit and run a world-class facility. One of our featured partners is Bowman® Dispensers.
Many Bowman® products fulfill the ADA compliance standards for protruding objects. Most of the products can be mounted in recesses as well. Bowman's® diverse line of healthcare dispensing solutions are compact, no more than 4 inches deep, and easy to organize.
At CME, our selection of healthcare furnishings and equipment covers the range of accessibility needs. We are only satisfied when the healthcare facility is equipped to treat all types of patients. For more information about our selection of ADA Compliance solutions or any healthcare equipment needs, call your local CME account manager or 1-800-338-2372.
---
About CME: CME Corp is the nation's premier source for healthcare equipment, turnkey logistics, and biomedical services, representing 2 million+ products from more than 2,000 manufacturers.
With two corporate offices and 35+ service centers, our mission is to help healthcare facilities nationwide reduce the cost of the equipment they purchase, make their equipment specification, delivery, installation, and maintenance processes more efficient, and help them seamlessly launch, renovate and expand on schedule.