It is safe to say that the pandemic rocked our world.
It brought words like "sterilize" and "sterilization" out of the world of healthcare and into mainstream conversation.
Healthcare facilities, from large IDNs to small private practices doubled down on sterilization practices.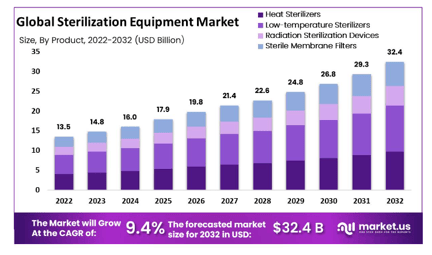 Today, three years later, the sterilization equipment market is still growing.
Because healthcare associated infections (HAI) are most common in surgical patients or patients receiving long-term care, medical sterilization equipment is a key player in the battle to combat the spread of HAIs.
Sterilization equipment is also a vital weapon in the struggle to keep healthcare workers safe.
Projections suggest that the sterilization equipment market will grow at a compound annual growth rate (CAGR) of 9.4% over the next ten years!
6 Ways Medical Sterilization Equipment Keeps Patients and Clinicians Safe and Sound
Infection Prevention
By killing or eliminating microorganisms such as bacteria, viruses, and spores from medical instruments sterilization equipment reduces the likelihood of introducing harmful pathogens into the body during medical procedures is reduced.
Cross-Contamination Prevention
Without proper cleaning, infectious agents can remain on medical equipment and be transferred to multiple patients or clinicians. Sterilization eliminates and kills harmful pathogens and microorganisms, minimizing the risk of cross-contamination.
Infection Prevention at the Surgical Site
The use of sterilized instruments during surgery reduces the chances of introducing microorganisms into the body. By extension complications after surgery are mitigated and patient outcomes are improved.
Protection Against Drug-Resistant Bacteria
In the context of antibiotic resistant bacteria, or superbugs, sterilization could not play a more significant role. Proper sterilization practices, when applied to the proper sterilization equipment for the devices and instruments being sterilized, can eliminate these bacteria, and prevent their spread.
Safety for Healthcare Workers
Sterilized medical equipment reduces the exposure of healthcare workers to infectious material. Reduced exposure helps prevent the transmission of pathogens from patients to clinicians during care or procedures.
Compliance with Regulatory Standards
Sterilization of medical equipment is often required by regulatory bodies such as the CDC. Compliance with sterilization standards ensures the safety of both patient and healthcare professional while also maintaining the integrity of the healthcare facility.
---
Choosing Sterilization Equipment
It is important to note that choosing the right sterilization equipment and method is critical.
Although steam sterilization with an autoclave is the most widely used sterilization method, there are other alternatives such as low-temperature ethylene oxide or hydrogen peroxide gas plasma sterilization, dry heat sterilization, or radiation sterilization.
The choice of sterilization method is dependent on the materials being sterilized, the microorganisms being destroyed, and the specific requirements of the medical setting.
In the battle to keep patients and healthcare workers safe and sound in an environment predisposed to the risk of transferred infections sterilization equipment is a must have for all healthcare facilities, regardless of size.

Whether looking for a small tabletop autoclave for private practice or larger standalone sterilizers for high volume hospitals and clinics, CME can help identify the best sterilization equipment based on facility specific sterilization requirements and available budget.
CME's Biomedical services ensure that sterilization equipment maintains optimal rates of efficacy with calibration, scheduled maintenance, and full validation checks.
Contact CME at webcs@cmecorp.com for more information about our selection of sterilization equipment or to inquire about biomedical contracts for medical sterilization equipment.
---
Additional Resources
Visit our recent CME Insiders Blog Post, Healthcare Associated Infections: We've Come a Long Way But We Aren't There Yet or
download the eBook, "Healthcare-Associated Infections Beyond the ACA: Supply Chain Could Be the Key to Further Reduction of Infection Rates"
to learn more about how CME is working to keep patients and healthcare workers safe and sound.
---
About CME: CME Corp is the nation's premier source for healthcare equipment, turnkey logistics, and biomedical services, representing 2 million+ products from more than 2,000 manufacturers. With two corporate offices and 35+ service centers, our mission is to help healthcare facilities nationwide reduce the cost of the equipment they purchase, make their equipment specification, delivery, installation, and maintenance processes more efficient, and help them seamlessly launch, renovate and expand on schedule.