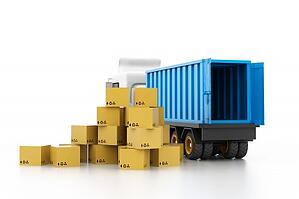 Opening a new medical facility or remodeling a current office can be a stressful process.
Thankfully, here at CME, we can offer our clients a Direct-to-Site delivery service that can eliminate many headaches associated with these large projects.
Our Direct-to-Site service manages all aspects of facility setup from start to finish, making it a stress-free and cost effective process; handling all phases of the project from initial orders, to delivery, final assembly and shipping material removal.
However, a stress-free experience and cost effective savings are not the only advantages to using our Direct-to-Site Delivery service. Below is a list of the top 5 advantages.
Consolidating Purchase Orders - By consolidating purchase orders (POs) and using an equipment-focused distributor that employs Direct-to-Site Delivery services, facilities reduce administrative costs and labor; allowing their team to concentrate on their required tasks.



Any given remodel or new facility project can have over 100 different medical equipment manufacturer POs if ordered separately. You can consolidate many of these different POs into one going to CME. POs have been cited to cost a healthcare facility between $75 and $125 per PO.




Reduced Number of Deliveries - Decrease the hassle and energy spent monitoring many different deliveries to the new facility by allowing CME to deliver all of your equipment direct-to-site. All products ordered from CME are sent directly to our storage facility where we will assemble and stage your equipment order.



CME works with your team to develop the most efficient and cost-effective logistics plan. We can deliver by floor, department; anything that works for you. Your project management team will save time and money. This also decreases the risk of products being misplaced or lost, and shortens the time of delivery so that you can begin operating the facility sooner.




Dealing With One Vendor - CME will be your one and only point of contact. No need to keep track of which vendor is sending which piece of equipment when, leave that hassle to us. We will organize all placed orders and any vendor communication necessary to get the job done.

Our unique PO tracker is updated daily and sent to you whenever you need updated. You will always know when your equipment is shipped and delivered to our warehouse. This way, you can concentrate more time on your everyday required responsibilities.


Dismiss Outsourced Logistics Company/Warehouse - Our Direct-to-Site delivery program minimizes the potential for loss or damaged goods by excluding the need for a separate warehouse from the logistics process.



Not having the equipment held in some random warehouse storage allows customers to eliminate offsite storage fees and over-handling. With less hands intertwined in the process, this ensures peace of mind that the equipment will arrive safely and on time.




Equipment Specialists - 99% of what we sell is equipment. CME will complete the whole buying process by making sure your equipment is assembled and used correctly. We are staffed with well-educated and knowledgeable experts who know the equipment and help facilitate all training to ensure customers utilize each piece of equipment correctly.
These 5 advantages to using our Direct-to-Site Delivery service ensures our clients that they will have an easy, stress-free experience while working with CME. No need to worry about lost or broken equipment to prolong the process, Direct-to-Site Delivery guarantees a smooth transition from start to finish.
From choosing the right equipment and accessories to setting up the new facility correctly, Direct-to-Site delivery is the smarter way to complete any upcoming projects.
---
About CME: CME Corp is the nation's premier source for healthcare equipment, turnkey logistics, and biomedical services, representing 2 million+ products from more than 2,000 manufacturers.
With two corporate offices and 35+ service centers, our mission is to help healthcare facilities nationwide reduce the cost of the equipment they purchase, make their equipment specification, delivery, installation, and maintenance processes more efficient, and help them seamlessly launch, renovate and expand on schedule. Visit our website for more information or request a free assessment.