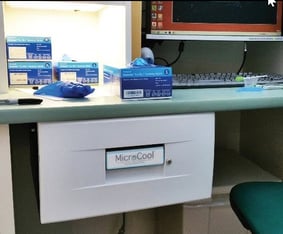 There is a growing need for small medical-grade refrigerators within hospital systems and the entire healthcare community. Whether it is to save space, increase safety, improve the clinicians' workflow, or simply for convenience, a more reliable medical-grade refrigerator was needed. The standard of care, for bedside refrigeration has been slowed, due to limited choices and reliability problems from past undercounter refrigerators.
Standard small door size models receive constant complaints of being too noisy, having temperature consistency and/or recovery problems, plus infectious control burdens. Finally, Creche Innovations has developed (and continues to improve) the absolute best solution for all small storage medical refrigeration needs, with the MicroCool® Refrigeration System.
Save money and space
Under-counter refrigerators take up valuable space and need careful planning prior to construction so they fit under the counter and within the staff workflow. The MicroCool® Refrigerator is considered micro-compact in size and fits into virtually any space. Its micro-size footprint can fit into any space without taking up valuable workflow areas in an already crowded patient room.
This allows the healthcare facility to put refrigerators everywhere they are needed, rather than picking and choosing based on size constraints or desired workflow coordination. The MicroCool® is also much safer for clinicians to use, as no bending is necessary to access the contents of the refrigerator. Hospital systems save valuable resources and time by using the MicroCool®'s drawer design refrigerator which is also a healthier solution for staff and its ideal option for patients.
Decrease noise and improve the patient experience
The safest way to meet individual patient needs, and improve clinician workflows, has made the use of individual patient room refrigerators, the standard of care for all hospitals. Installing refrigerators at bedside offers tremendous benefits, however ambient noise level should be considered as most refrigerators are noisy (most under-counter refrigerators operate at 50 decibels or higher).
Exposure to unnecessary noise has been proven too negatively affect the healing process. The MicroCool® Medical Refrigerator is perfect for bedside use, and endorsed by clinicians and infectious control for its superior design and quality. With the use of its propriety Whisper® Quiet technology, the MicroCool® operates at <35 decibels!
Keep temperatures consistent
Under-counter refrigerators typically have swing-out doors which is the most inefficient method used in order to maintain temperature consistency.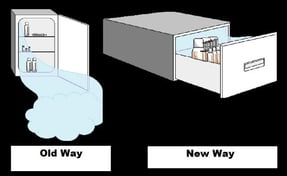 Physics tells us that every time you open a swing-out refrigerator door, cool air escapes and warm air flows in. Cold air is heavier than warm air, thus opening and closing will always cause temperature fluctuations.
Having temperatures fluctuate too far out of range and for too long of time can cause medications and nutritional products to become unusable, thus wasting unnecessary resources. The MicroCool® Refrigerator's drawer design addresses this problem - when the MicroCool®'s drawer is opened, the cold air swirls around the bottom of the tray, but doesn't leave the drawer and the temperature stays consistent.
Make infection control a priority
We all know that infection control is a top priority in today's healthcare facilities. Under-counter refrigerators have two problems in this area. First, they are difficult to properly clean whether you are bending over or sitting on a little stool, this is not an easy job, not to mention not safe for the staff. Second, standard drip trays used in a majority of the existing under-counter refrigerator models, is an ideal place for bacterial proliferation.
The MicroCool® Refrigerator utilizes a proprietary design with its antimicrobial cartridge (no drip trays or messy maintenance required). The MicroCool® Antimicrobial Cartridge absorbs and eliminates moisture and is designed to remove the threat of microbial agent exposure. Best of all the moisture and associated bacteria is self-contained within the Antimicrobial Cartridge, thus eliminating unnecessary exposure to patients and staff.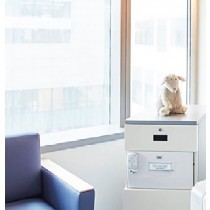 These outline the top reasons, however a side-by-side comparison reveals why the MicroCool® is simply the best and most versatile refrigeration solution today. It can be installed in a variety of ways including: under counter mount, built-in to cabinetry and/or casework, countertop, in emergency medical vehicles, or in one of Creche Innovations custom furniture/cart options.
Its superior design is made of the highest quality materials and ergonomic design ensures no more bending or contorting oneself, to find something in the refrigerator, and simple to use and easy to clean.
For further knowledge, read the whitepaper, Outlining Careful Considerations for Hospital Grade Refrigeration provided.
---
About CME: CME Corp is the nation's premier source for healthcare equipment, turnkey logistics, and biomedical services, representing 2 million+ products from more than 2,000 manufacturers.
With two corporate offices and 35+ service centers, our mission is is to help healthcare facilities nationwide reduce the cost of the equipment they purchase, make their equipment specification, delivery, installation, and maintenance processes more efficient, and help them seamlessly launch, renovate and expand on schedule.