CME and Wolf X-Ray strive to work together to provide you with the best in technology and products, particularly when it comes to protecting both your staff and your equipment. CME is proud to partner with the talented Wolf team to not only exceed your expectations, but also provide the best products, service, and delivery.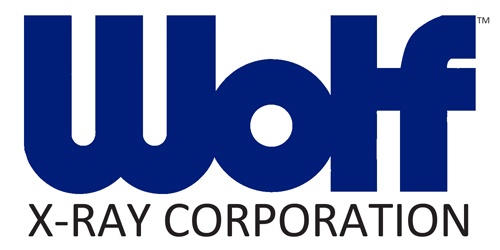 About Wolf
Founded in 1931, Wolf occupies a unique position in the manufacture and distribution of imaging accessories. Howard Wolf, President and third-generation principal in this family-owned-and-operated business, leads the group—alongside many other talented members of their 100-person team.
Wolf manufactures over 180 different products in their primary facility in Deer Park, New York, and has been exporting to international dealers and OEMs since the early 1950s. They hold multiple patents in the protective x-ray field, having created a number of methods and technologies for more than 80 years.
As they say, "Nothing protects like Wolf."
Wolf + CME
In their partnership with CME, Wolf has worked to offer some of the best products on the market. These products, ranging from aprons to panel protectors, are all designed with your ease, safety, and convenience in mind.
FEATURE: Wolf's Antimicrobial Apron Material
In medical testing and treatment environments, bioburdens are a near constant concern. Particularly in critical and trauma treatment environments, liquids such as blood, urine and other microorganisms can be easily transfer these bioburdens to practitioners—which is why protection against them is so important and useful.
For x-ray technicians especially, multi-use protection apparel for use against both microbes and x-rays is crucial. Often, these microorganisms reduce the lifespan of protective x-ray equipment—which is where Wolf works to benefit the healthcare community by providing them with safer, more practical solutions to these problems.
Wolf X-Ray has developed a new antimicrobial shell for use in hospital and clinical environments—a new material that is easy to clean and features a polyurethane laminate top layer to reduce bioburdens and microorganisms. This new material, which includes a liquid-proof layer to prevent liquids from penetrating the lead apron, is perfect for reducing any unwanted substances from entering the apron, thus protecting technicians.
While this is the newest gem in Wolf's line of x-ray apron products, they have a wide array of offerings to aid you in other ways as well.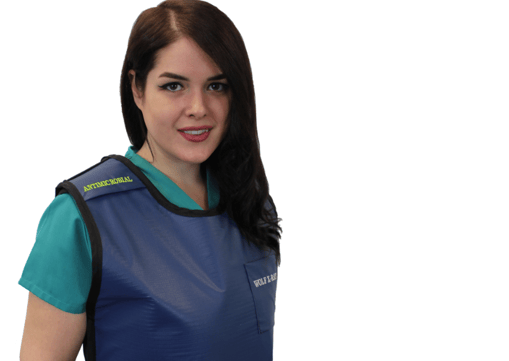 Mobile Adjustable Height Barrier
Like Wolf's Antimicrobial Apron, the mobile adjustable height barrier works to solve more problems faced by technicians. The space in many care and treatment centers is often limited, and though protective equipment always needs space, building a product that can easily be transported and then easily stored when not in use is critical.
This is one of the benefits of the new Mobile Adjustable Barrier from Wolf X-Ray. The adjustable height product allows it to be stored in smaller areas aside from adding various possibilities in testing and treatment. For this reason, Wolf mobile barriers are extremely useful—they can be used in everything from operating rooms to radiology departments, and even outside of hospitals at pain management clinics and Surgical Centers where Radiography is employed.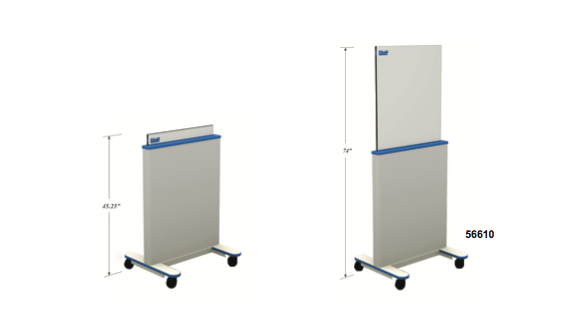 Weight Bearing DR Panel Protector
Wolf is dedicated to providing the best of all products, which is why their weight bearing DR panel protector is the best in its class. These panel protectors are made up of nonporous polyethylene and unbreakable polycarbonate capable of supporting up to 750 lbs. and are compatible with Canon, Siemens, Toshiba, Phillips, Shimadzu, Quantum, Carestream, Fuji, Varian, Konica, Minolta, and AGFA digital systems.
Easy to clean, built with cutouts for cables and an easy to use carry handle, Wolf DR panel protectors have two main sizes 14" x 17" (56147) and 10" x 12" (56148), and you can easily request custom sizes if needed.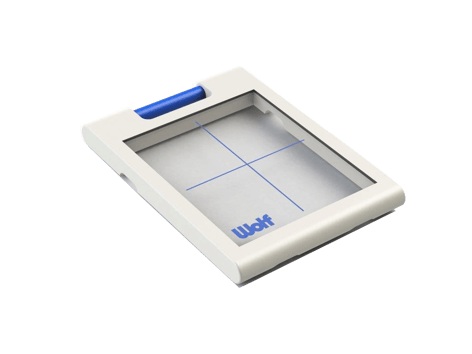 ---
In partnering with Wolf, CME is dedicated to providing you with only the best products and services.
Ready to get started on staffing your healthcare facility with the best products in the industry today? Contact your CME representative for more info.
---
About CME: CME Corp is the nation's premier source for healthcare equipment, turnkey logistics, and biomedical services, representing 2 million+ products from more than 2,000 manufacturers.
With two corporate offices and 35+ service centers, our mission is to help healthcare facilities nationwide reduce the cost of the equipment they purchase, make their equipment specification, delivery, installation, and maintenance processes more efficient, and help them seamlessly launch, renovate and expand on schedule.