Each year in the United States alone, 7,000 to 9,000 people die because of medication errors. Some of these tragic incidents are associated with calculation of medication dosages based on incorrect weights. Additionally, hundreds of thousands of other patients experience, but often don't report, an adverse drug event or other complications due to medication errors in general. The total cost of looking after patients with medication-associated errors is estimated to exceed $40 billion each year.1
Transcription Errors and Medical Device EMR Integration
The most common reasons for weight-related medication errors include illegible handwriting, transcribing patient weight, and units of measure. A manual workflow of noting a patient's weight in the chart either on paper or by keyboard, can be particularly vulnerable to error in cases when another person is tasked to transcribe handwritten notes for EMR entry.
An Accurate Weight is Critical for Dosing Medications in Children
Medication is an integral part of the treatment of patients. But when dosed incorrectly, medication can have serious, potentially fatal consequences, especially in the more vulnerable pediatric patient population. Dose calculation errors are the most common type of medication error for babies and children since they have a much smaller margin for dosage errors than adults. It's vital to adopt a multi-pronged approach to promote prompt and accurate weighing, correct weight documentation, and easy accessibility to the patient's information for those involved in medication management.
In response to these inefficiencies, a new trend in medical devices is emerging. The idea is to use networking technology and automation to replace manual transcription workflows where errors are most prone to happen. We are now seeing medical device features that support transmission of data from device to EMR directly – also known as "device connectivity". This typically entails use of encrypted, wireless technology for secure, HIPAA-compliant communications of data and to avoid use of cables. This also significantly optimizes workflows for time-savings and can be viewed as a form of decision-support for clinicians in the form of a more efficient, less-distracting workflow.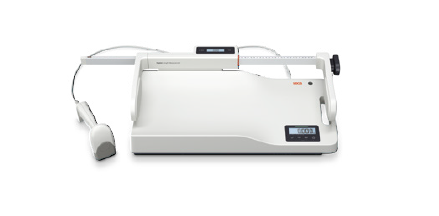 "As pediatric providers continue to adopt HER software data, they should consider implementing decision support at the point of data entry for key pieces of foundational data such as weight. HER-integrated digital scale solutions can significantly constrain the potential for patient weight–entry errors."
(Source: A Weighty Mistake Seth J. Bokser, MD, MPH | March 1, 2013. (https://psnet.ahrq.gov/web-mm/weighty-mistake)
EMR Device Integration: Trust, but Verify
Intrinsic to EMR integration workflows is a fast, simple way to verify both the plausibility of measurements, and ensure measured data is matched to the correct patient record in EMR. A quick and simple way to implement this process in hospital settings is by use of a barcode scanner attached to the medical device to scan patient ID, such as from an ID bracelet, chart or monitor screen. Based on patient ID as the foundation for accurate transfer of data, an EMR integration workflow would be as follows.
Indicators in the form of color LEDs on the medical device provide simple visual confirmations from the EMR at each stage of measurement:
First, scan patient ID barcode to verify correct patient record in EMR has been selected to receive the captured measurement.

Take measurement with device

Confirm captured data has been saved to correct patient EMR record.

Receive confirmation from EMR that measurement is within a plausible range for patient, according to algorithm-determined parameters. If out of range, EMR can be configured to display an alert for clinicians.
Optionally, a scan of user ID can be added to workflow if desired to include in EMR record which clinical user did the measurement.
A key feature of this measurement process is use of simple, color LED indicators for users to observe confirmations from EMR of successful, and plausible, transmission of measurements to the correct patient record. This allows users to have both the advantages of automation and oversight of the process, in a fast and intuitive workflow.
EMR device integration workflows are usually implemented by hospitals as relatively large, enterprise projects, to take advantage of cost efficiencies available at scale, and through device standardization at the facility or health system.
Medical device brand leaders offer effective integration solutions for hospitals available now, for example EMR-validated patient scales and vital signs monitors produced by seca, the global leader in medical weighing and measuring, that also provides full EMR integration services and technology support.
1 Source: Medication Dispensing Errors And Prevention (July 25, 2021). Rayhan A. Tariq; Rishik Vashisht; Ankur Sinha; Yevgeniya Scherbak. (https://www.ncbi.nlm.nih.gov/books/NBK519065/)
---
About CME: CME Corp is a full-service healthcare equipment and turn-key logistics company providing personalized support and service. With service centers nationwide, CME offers more than 2 million medical products from a total of over 2,000 manufacturers. CME is a healthcare system's complete equipment solution by providing product selection, sales, warehousing, assembly, staging, direct-to-site delivery, installation, and biomedical services for all its equipment.
About Seca: Since 1840, seca has become a global leader in medical technology and has perfected the skill of developing innovative weighing and measuring solutions. As a MedTech system solutions provider, choosing seca means choosing a global leader with over 182 years of medical device and diagnostic expertise. seca products are sold by 18 branch offices and exported to 110 countries, providing doctors and medical personnel with professional support for the exact needs of their medical applications. Examples include networked measuring stations with bi-directional communication, service and software systems that simplify workflow, vital signs monitors that integrate seamlessly with seca scales, and medical Body Composition Analyzers that use BIA technology to revolutionize diagnostics in the medical and fitness industries. Ultra-modern production technology, durable materials, and a worldwide quality management system ensure top-level product standards.