Today, 1 out of 25 hospital patients in the U.S. will contract a healthcare-associated infection (HAI). This rate of infection results in an alarming 90,000 deaths annually.
On the financial side, the cost of a single case can cost up to $50,000, with the direct national cost to hospitals estimated between $28 billion and $45 billion. In 2017 Medicare penalties for facilities with high rates of hospital acquired conditions saw 751 hospitals and healthcare systems penalized with a 1% reduction in reimbursement rates for 2018.
While many of these infections are largely preventable, a disturbing 2018 report from The Leapfrog Group, a national nonprofit organization driving movement in the quality and safety of American healthcare, says the percentage of hospitals achieving zero infections has declined dramatically since 2015, putting more patients at higher risk.
One of the key fronts in the battle against HAIs is Hand Hygiene. The problem is that even the most stringent, successful Hand Hygiene program is completely defeated the very second the clinician—or hospital visitor for that matter—touches their phone, smartphone or tablet.
Studies have placed the contamination rate of phones and tablets between 10 and 18 times dirtier than a public restroom toilet seat!
So, how many times do we handle these highly contaminated items? Further studies show the average user touches their phone 2617 times each day. This number exceeds, by far, the number of touches on any other handheld device in the hospital. For extreme-users, including many clinicians who are required to use their devices as part of their job, the number skyrockets to 5,400 times per day.
But even if the phone or tablet is contaminated and is touched thousands of times, what is the transfer rate? Studies show that clean hands with essentially zero bacteria touching a phone with a measured number of bacteria will have almost the identical number of bacteria on them.
The easy answer – disinfecting wipes – will ease people's minds but simply don't work in real-world clinical settings. First, the wet times required to achieve the advertised disinfection rates (up to 3 minutes per surface of each device) are not feasible for multiple disinfections in a busy healthcare facility. Second, the use of bleach and alcohol based wipes can dry and crack hands. Those cracks become breeding grounds for infection. Meaning that rather than helping, the use of wipes can exacerbate the problem.
In short, we can disinfect the room, the air and everyone's hands but we will not win this war, or even make significant headway, without a better way to continuously disinfect our handheld devices.
One device proving to be the missing piece to the puzzle is the KR-615 Germicidal Enclosure from Advanced Ultra-Violet Systems (AUVS). Designed specifically to treat handheld devices including phones, tablets and bar code scanners, the KR 615 has been dubbed "The UV Box" by clinicians at the more than 100 hospitals and hospital groups where it is currently in service. This germicidal enclosure offers a remarkable number of advantages including proven efficacy, ease-of-use, speed of disinfection and economy.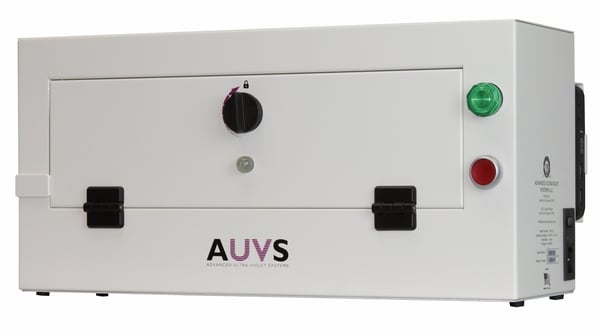 An independent FDA consulting lab determined that against C. diff spores and MRSA—two of the toughest contaminants to kill—The UV Box achieved up to a 99.995%, 4.5 log disinfection rate. It was further proven to disinfect Norovirus at a 99.999%, 5.25 log rate.
Speed and ease-of-use further add to The UV Box's appeal, disinfecting up to 5 smartphones with one-button simplicity in just 55 seconds. That means there is no learning curve, so it will be used – and, it can be used frequently during a clinician's shift.
Furthermore, even with frequent use, The UV Box poses no threat to expensive electronic equipment as opposed to bleach and alcohol based wipes. The use of such wipes is not recommended by device manufacturers and often voids warranties.
In terms of economy, The UV Box is one of the least expensive, proven options available. Adding to its affordability is the fact that each unit represents a one-time cost with no consumables or waste products as compared to the ongoing cost and waste produced by wipes. In fact, using extremely conservative numbers on usage and the cost of wipes in a 200 bed hospital, AUVS has projected savings on the UV Box vs. wipes to be more than $300,000 over a seven year period.
Given all these factors, a careful look at the US-made UV Box is almost mandatory for any healthcare facility.
CME Corp has partnered with AUVS to expand its comprehensive HAI product line. For more information on the UV box and other equipment-based HAI products, ask your local account manager or call 1-800-338-2372.
---
About CME: CME Corp is the nation's premier source for healthcare equipment, turnkey logistics, and biomedical services, representing 2 million+ products from more than 2,000 manufacturers.
With two corporate offices and 35+ service centers, our mission is to help healthcare facilities nationwide reduce the cost of the equipment they purchase, make their equipment specification, delivery, installation, and maintenance processes more efficient, and help them seamlessly launch, renovate and expand on schedule.