Medical spaces are notoriously known for being uncomfortable, restrictive, and coldly clinical. The equipment in healthcare facilities is often designed with the intent to treat patients as opposed to being aesthetically pleasing.
Champion has shifted toward patient-centered design, which emphasizes human needs and comfortable convenience. Furniture crafted with these principles in mind is more intuitive and accessible. Here's why that's critical to better patient outcomes and experiences, especially in an era of emerging diseases and nuanced medical needs.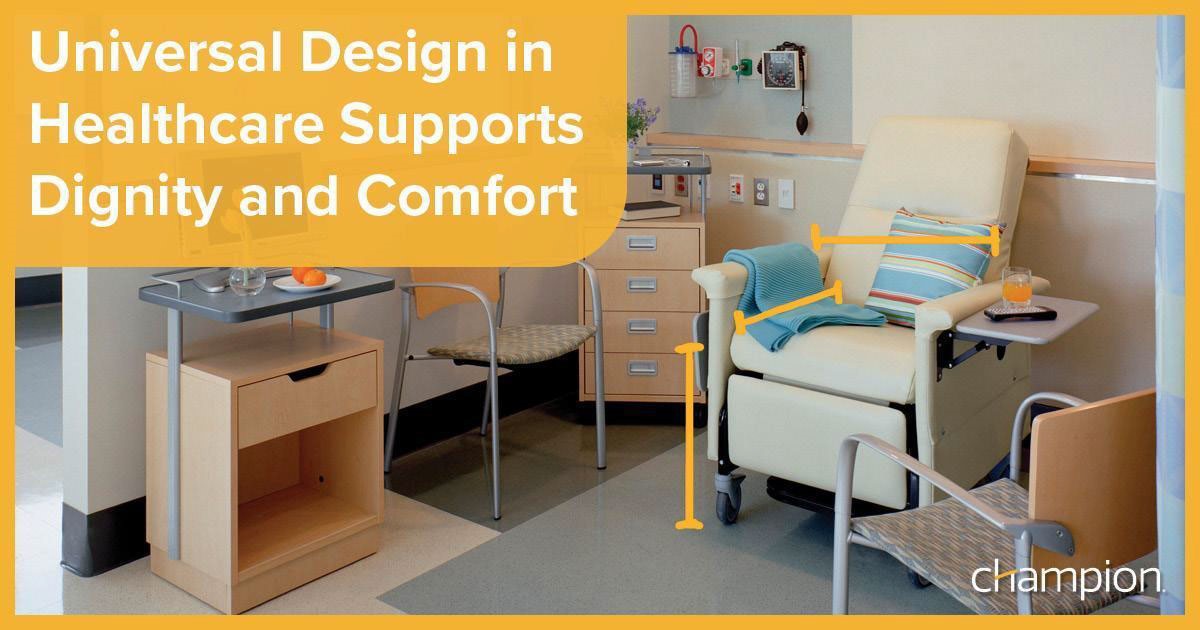 Universal Design in Healthcare Supports Dignity and Comfort
Amidst a rise in obesity, medical furniture needs to be designed to accommodate larger body sizes. In the past, many traditional designs failed to provide adequate support with patients above a certain weight having to use different chairs or stretchers that often stood out like a sore thumb.
In the interest of protecting patient's dignity, medical seating now incorporates universal design. A product must integrate seamlessly with its environment without discriminating against users. Moreover, it should accommodate the broadest possible spectrum of needs. For example, Champion's 56 Series looks similar to our other medical recliners but offers power-lift, breakaway arms, and a reinforced structure for bariatric patients.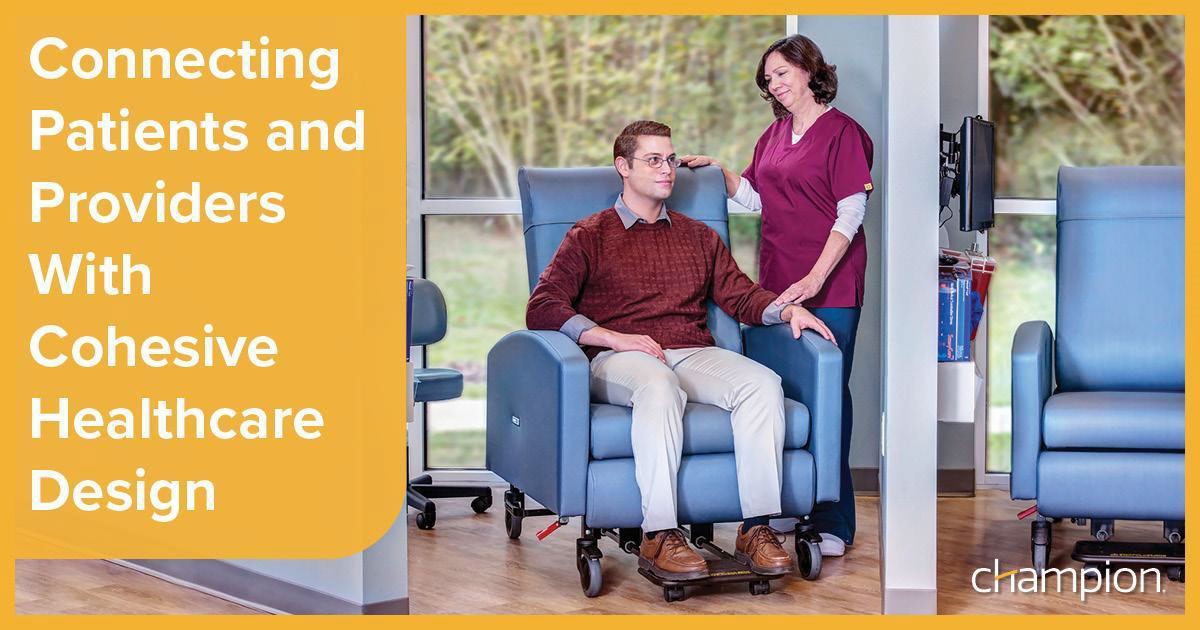 Connecting Patients and Providers With Cohesive Healthcare Design
Person-centered design not only accommodates all patients but encourages their use of all fixtures. For example, there's little benefit in clothing hooks or comfortable chairs if they're off to the side or blocked off. Healthcare facilities should create an unrestricted presence, meaning that all furniture, technology, and amenities are accessible. This is especially important in patient rooms, where families and caregivers need to share the usually small space.
In patient-centric healthcare design, communication is vital and everyone deserves an equal opportunity. Traditional beds, seating, and task tables may obscure lines of sight, causing a sense of division or restriction. Adjustable furniture helps patients, providers, and relatives meet at eye level and easily review computer screens and other technical elements.
That leads to another consideration: how clinical spaces can meet everyone's needs, no matter their cultural or sociodemographic group. Human-friendly patient room furniture is the key.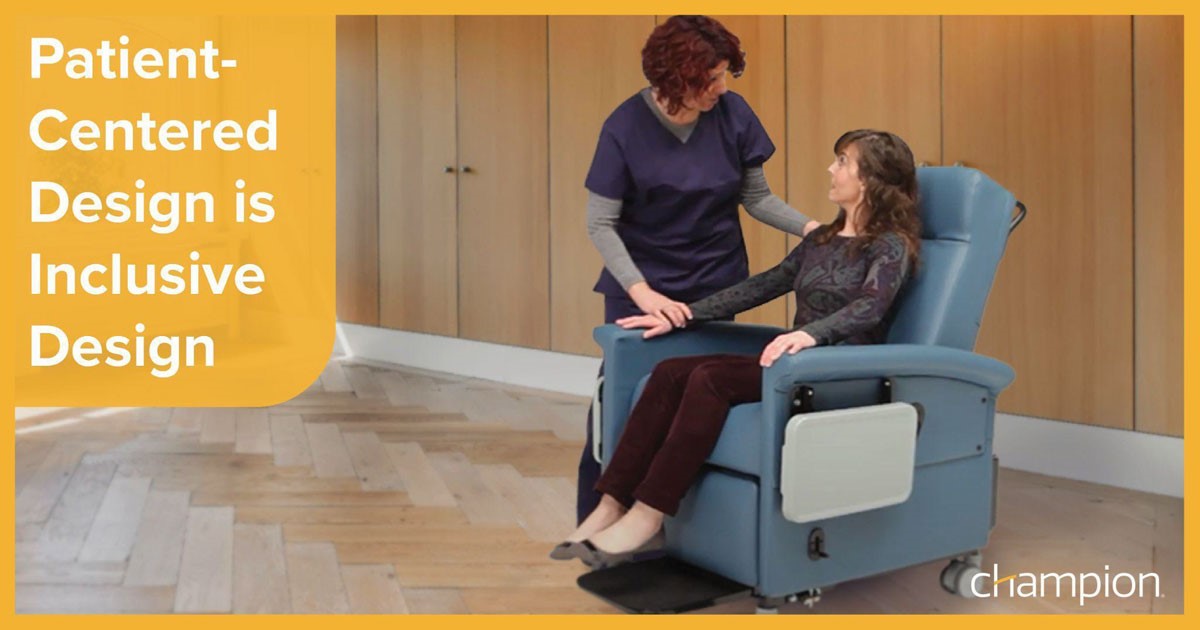 Patient-Centered Design is Inclusive Design
As part of a recent emphasis on diversity and inclusion, healthcare facility designers are making patient spaces more culturally sensitive. Some cultures embrace extended families who want to gather and assist their sick relatives. Traditional furniture and layouts can be restrictive, but patient-centric design allows everyone to interact comfortably.
Instead of crowding rooms with sofas and large furniture, multi-purpose seating such as Champion's 526 series creates breathability while allowing patients to be there to support their loved ones. Medical areas can also feel safer when they're more intimate which might include providing privacy screens to offer a modular solution to rearrange care spaces.
Patient-centric features also create an overall feeling of equity. By their very nature, human-friendly elements prove that the space is welcoming and inclusive. As we collectively strive to reduce healthcare inequalities related to gender, class, ethnicity, or body type, person-centered design is more important than ever.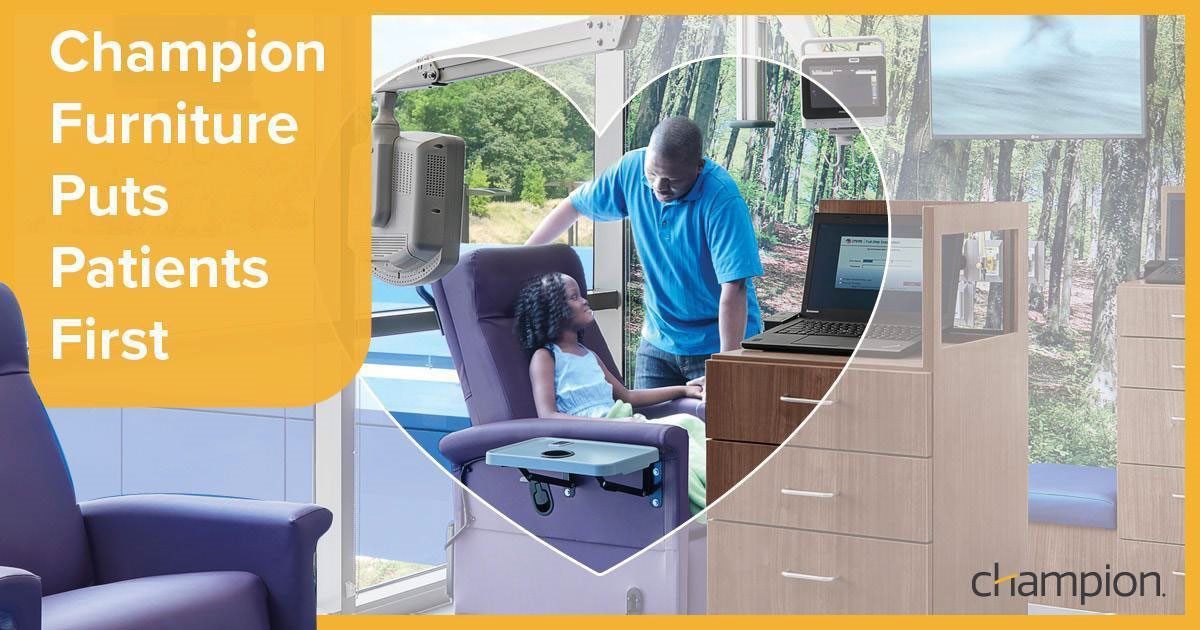 Champion Furniture Puts Patients First
Healthcare facilities are adapting to these new concepts by creating flexible, human-friendly spaces wherever possible. However, it's rarely as simple as knocking out a wall or updating the paint colors. Furniture is a unifying force that is a critical part of patients' tactile and visual experience, so it must support their comfort and needs above all else.
Champion's seating solutions, task tables, and privacy screens are all designed to be modular and patient-centric, especially when space is at a premium. From power-lift and reclining features to bariatric support, our furniture keeps the person in mind while supporting a wide variety of equipment and tasks. Most importantly, it encourages well-being and emotional safety — both of which are vital to better patient outcomes and experience.
About CME: CME Corp is a full-service healthcare equipment and turn-key logistics company providing personalized support and service. With service centers nationwide, CME offers more than two million medical products from a total of over 2,000 manufacturers. CME is a healthcare system's complete equipment solution by providing product selection, sales, warehousing, assembly, staging, direct-to-site delivery, installation, and biomedical services for all its equipment.
About Champion Manufacturing: Champion Manufacturing Inc. offers an array of product options from Multiple product lines: Winco, TransMotion, and Chair-A-Medics. In combining these brands, Champion is able to provide a broad range of solutions to caregivers and medical practitioners across the healthcare continuum.