CME has partnered with Bovie Medical to provide you with quality medical-grade generators, electrodes, smoke evacuation systems, lighting and more for all of your healthcare needs. As Bovie works hard to provide reliable, state-of-the art products, it was a given that CME join with them to not only exceed your expectations, but provide the best products, service and delivery.
ABOUT BOVIE MEDICAL
Bovie Medical sets the standard for surgicenter and hospital-based electrosurgical generators and accessories with a range of "state of the art" models. Bovie's full line is the most complete offering of any USA manufactured electrosurgical generator product, as their feature-packed generators designed from the ground up to be both reliable and UL and Canadian Standards compliant.
Over the past decade, Bovie has expanded their manufacturing capabilities to include a full line of disposable electrosurgical electrodes in blade, ball, needle, loop and laparoscopic form. The reusable ES pencils, with a full complement of reusable electrodes and bipolar forceps, enhance their ever-expanding line of products.
BOVIE MEDICAL + CME
When it comes to excellence in quality, value, and service, Bovie electrosurgical generators are second to none. Here are some of the most impressive products in the Bovie lineup today:
DERM 942
DERM 942 - this high-frequency desiccator has a patent pending handpiece designed and engineered to be the most reliable and durable desiccator available today. The unit's life is prolonged by incorporating the latest in chip technology and reducing the number of internal parts, thereby generating less internal heat.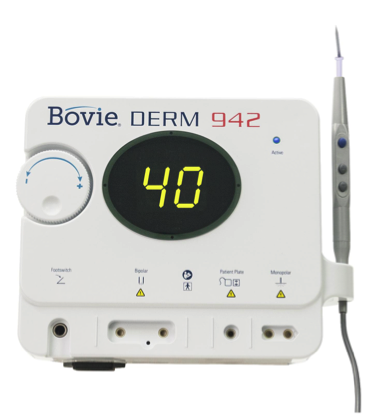 BANTAM | PRO
The Bovie Bantam | PRO, A952, is a High-Frequency Desiccator with cutting ability. You might call it a split personality. One-half of the unit is a high-frequency desiccator, an upgrade to our very popular Aaron® 940. The other half is a Bovie Generator, giving you 50 watts of cutting power and coag capabilities – plenty of power for most cutting procedure performed in the doctor's office.
This high-frequency desiccator has 50 watts of cutting capabilities. There are two machines in one convenient package and adjustable in 1/10th-watt increments in the first 10 watts, for the most accurate output available. There is no grounding pad required when working in the desiccation mode.
When in electrosurgical generator mode, the unit features Bovie NEM™ pad sensing technology which monitors the return electrode for optimum patient protection.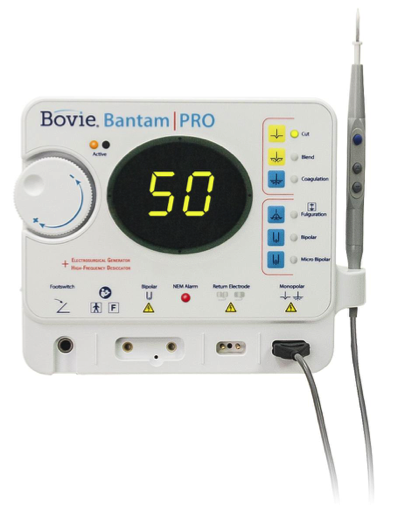 SPECIALIST | Pro
The Bovie® Specialist Pro is the electrosurgery solution for in demand physician offices and specialty facilities. Designed to operate like an operating room generator in a compact lower watt package. The multipurpose unit is ideal for monopolar and bipolar office surgical procedures. Industry-standard connections allow for use of a variety of monopolar and bipolar accessories providing energy versatility across a variety of specialties such as OBGYN, Urology, Plastic Surgery, Dermatology, ER and more.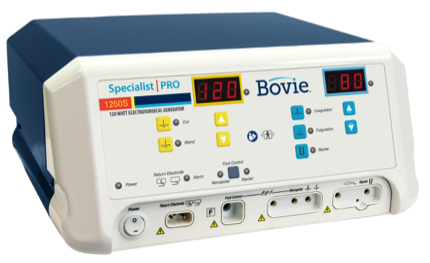 Opening a new clinic? Check out our newest blog, "The Top Ten Must Haves for Your New Exam Room."
---
About CME: CME Corp is the nation's premier source for healthcare equipment, turnkey logistics, and biomedical services, representing 2 million+ products from more than 2,000 manufacturers.
With two corporate offices and 35+ service centers, our mission is to help healthcare facilities nationwide reduce the cost of the equipment they purchase, make their equipment specification, delivery, installation, and maintenance processes more efficient, and help them seamlessly launch, renovate and expand on schedule.