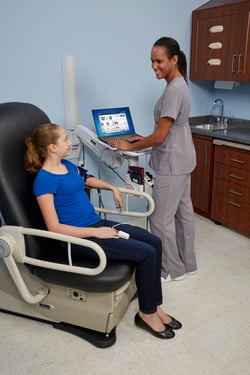 As independent, outpatient medical practices have become part of integrated health systems, networks have struggled to establish standardized processes. This is a problem. Simply put, disconnected processes and devices at the point of care can have a big impact on costs and outcomes.
Manual vitals acquisition alone produces wasted time that can cost up to $1,600 per year per medical assistant. For health systems with hundreds of medical assistants, those costs add up—and the impact on clinical outcomes and patient satisfaction can be even greater.
Studies have also shown that manual data transcription produces a 6.5 percent rate of error on average. Assuming a caregiver sees 20 patients a day, that's eight errors just capturing vitals.
Earlier this year, Midmark launched IQvitals Zone—the industry's first wireless vitals monitor that auto-connects to the caregiver's tablet or laptop using zero clicks. The clinician can then transfer patient vitals data directly into the electronic medical record (EMR), eliminating common transcription errors and reducing wasted time.
IQvitals Zone changes the traditional vitals workflow. When used with a Midmark 625 Barrier-Free® exam table with the integrated IQscale®, our customers can bring all vitals capture (including weight) to the point of care and reduce the time it takes to capture vitals data by over a minute per patient. And with the Midmark IQconnect™ framework, caregivers can operate everything from one single "pane of glass" (the computer screen), saving even more time.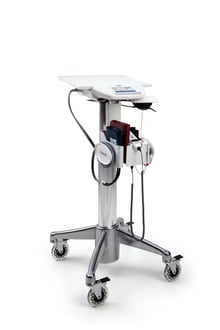 IQvitals Zone is one example of how Midmark works with our customers to help them understand a fully connected point of care ecosystem, extending beyond the direct interaction between patients and caregivers to encompass everything that happens within the practice or clinic.
A fully connected point of care ecosystem eliminates the barriers that prevent seamless, well-coordinated patient experiences and create inefficiencies, communication breakdowns and human errors. IQvitals Zone brings the clinical space one step closer to a fully connected point of care ecosystem that integrates processes, equipment and caregivers.
CME is dedicated to getting our customers the information they need to improve patient satisfaction and outcomes. To learn more about IQvitals Zone, call your CME account manager or 800-338-2372.
---
About CME: CME Corp is the nation's premier source for healthcare equipment, turnkey logistics, and biomedical services, representing 2 million+ products from more than 2,000 manufacturers.
With two corporate offices and 35+ service centers, our mission is is to help healthcare facilities nationwide reduce the cost of the equipment they purchase, make their equipment specification, delivery, installation, and maintenance processes more efficient, and help them seamlessly launch, renovate and expand on schedule.