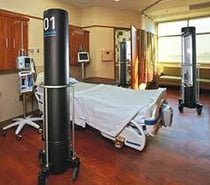 One of the most effective ways to target healthcare-associated infections (HAI) is to go right to the source – the DNA and RNA of the actual organisms, themselves. Through new innovations in ultra-violet (UV) light technology, scientists have developed a proven method of harnessing these powerful rays and positioning them in healthcare facilities to save thousands of lives and billions of dollars at hospitals and medical clinics.
Clorox Healthcare is a pioneer in this growing field, and CME is proud to carry its latest HAI solution, a mobile device that can easily be brought into empty operating rooms between invasive procedures to ensure the room is safe for the next patient.
Ultraviolet disinfecting is a critical failsafe in the turnover process that should be conducted in conjunction with conventional cleaning methods.
Healthcare-associated infections are a persistent and dangerous force in healthcare facilities, impacting 5 to 10 percent of hospitalized patients and killing 75,000 infected patients annually. CDC research has shown that simply being aware and taking specific steps to prevent HAI can lead to a 70 percent decrease in targeted diseases.
uSING UV TECHNOLOGY TO COMBAT HAI
CME has partnered with Clorox Healthcare to bring the Clorox Healthcare® Optimum-UV Enlight® System to facilities across the country. UV light can target hospitals most stubborn pathogens such as Clostridium difficile (C. diff). The Clorox Healthcare® Optimum-UV Enlight® System kills 31 pathogens, including C. diff spores and other notorious pathogens that may cause HAI such as methicillin-resistant Staphylococcus aureus (MRSA), vancomycin-resistant Enterococci (VRE) and more.
The 72-inch-tall system is placed at strategic points in the room and emits a full range of motion UV light that targets the DNA and RNA of the bacterial and viral pathogens within the room. The entire process takes only 15 minutes. The system is easy to maneuver and is built with both safety and efficiency in mind as it can be wheeled into a patient room or surgical suite after manual cleaning and disinfecting. The room may be immediately occupied after the system performs its treatment cycle.
BENEFITS OF THE CLOROX HEALTHCARE® OPTIMUM-UV ENLIGHT® SYSTEM
A study conducted at the University of Pennsylvania's Perelman School of Medicine found that using the Clorox Healthcare® Optimum-UV Enlight® System in conjunction with standard cleaning tactics reduced the number of infections by 25 percent without adversely impacting room turnaround time. Additionally, the same study found that those rooms which had not been treated with the UV system saw a 16 percent increase in infections.
This success rate makes the system a best-in-class UV system that can be used across healthcare facilities in operating rooms, acute care centers, patient rooms and areas where patients are the most vulnerable to HAI.
"Studies have shown that half of the environmental surfaces in a typical hospital operating or patient room may not be effectively disinfected, enabling the transmission of dangerous pathogens, which is why we are really excited that Clorox Healthcare® chose us to be their hospital system partner offering their Optimum-UV Enlight® System," said KC Meleski, Vice President of Sales for CME.
CME is dedicated to fighting HAI by providing cutting-edge cleaning technology and equipment to our customers with our complete line of products that will help combat HAI. Call 800.338.2372 for an account manager who can provide you with information about the Clorox Healthcare® Optimum-UV Enlight® System or other innovative products.
For more information about different UV light solutions, read the blog: New Technology Reported to Reduce HAI
---
About CME: CME Corp is the nation's premier source for healthcare equipment, turnkey logistics, and biomedical services, representing 2 million+ products from more than 2,000 manufacturers.
With two corporate offices and 35+ service centers, our mission is to help healthcare facilities nationwide reduce the cost of the equipment they purchase, make their equipment specification, delivery, installation, and maintenance processes more efficient, and help them seamlessly launch, renovate and expand on schedule.