Effective collaboration between stakeholders lays the foundation for successful projects, especially in the healthcare industry where challenges are constantly evolving, and meaningful partnerships are critical to overcoming issues. In a professional setting, 97 percent of employees found that the quality of collaboration impacted the outcome of a task or project for better or for worse, according to a Salesforce Work.com study.
The Strategic Marketplace Initiative (SMI) emphasized the importance of collaborative relationships in its SMI Collaboration Package Toolkit, a valuable resource for people across the entire healthcare supply chain who want to build lasting, more effective collaborative relationships.
For CME, building partnerships is crucial to the success of our customers. Using the best practices laid out by SMI is one way we optimize our collaboration to provide the best service to our healthcare provider partners.
SMI's Pathway to Collaboration
The first important step to building the most effective partnerships is selecting the appropriate stakeholder or stakeholders. While there may not always be the option to hand pick whom to collaborate with, understanding the organization's culture and resources will set up your partnership for greater success. Recognizing the values and understanding the challenges your partner is facing will position the partnership for greater respect and eventual accomplishments.
Defining the goals and scope of work for the partnership is the next step. Stakeholders wishing to collaborate on a project will need to understand what work the project entails, what risks are involved, how each party will benefit from the project and more to fully engage with the project. When they have a clear and defined understanding of what lies ahead, the results are easier to obtain.
Collaborations are always evolving and while stakeholders cannot always predict what changes may happen during a collaboration, anticipation of those changes is critical to maintaining an effective partnership. The best practice is to establish the communication methods and change management processes that participants are expected to abide by so that when change comes along everyone is informed. This step is extremely important to maintaining a positive relationship between all parties.
Transparency and communication can elevate a good partnership to an exceptional one while lack of transparency and communication can create a toxic environment. Effective partnerships establish trust and transparency early-on by sharing visions, strategy and direction for the project. Obtaining a non-disclosure agreement or other legal documents may be necessary depending on the structure of the relationship and level of information being shared. Collaborations where parties trust one another and communicate openly are well poised for success.
Additionally, SMI suggests creating metrics to measure the success of the project and laying a foundation for long-term efforts that yield results.
Best Practices
There is no foolproof, step-by-step process that guarantees the success of every partnership. Rather, SMI concludes that investing the time to plan, strategize and build relationships is key to providing more gains than losses. A "combination of good leadership, trust, timing, resource commitment, resolve and vision" results in the most successful partnerships, according to SMI.
At CME, collaboration is vital to the success of our customers and we are committed to building the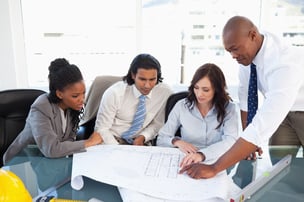 most powerful partnerships we can to provide top-of-the-line services. As members of SMI, we pride ourselves on being good stewards of the collaboration best practices, employing them across different settings to maximize the benefits of every professional relationship.

CME is an equipment-centric distributor that has a comprehensive portfolio of related services to better serve our healthcare customers across the country. Please view our latest Equipment Services video. Call us at 800-338-2372 to begin your next strategic collaboration with CME.
---
About CME: CME Corp is the nation's premier source for healthcare equipment, turnkey logistics, and biomedical services, representing 2 million+ products from more than 2,000 manufacturers.
With two corporate offices and 35+ service centers, our mission is to help healthcare facilities nationwide reduce the cost of the equipment they purchase, make their equipment specification, delivery, installation, and maintenance processes more efficient, and help them seamlessly launch, renovate and expand on schedule.