It's a simple concept, warming IV fluids to help prevent hypothermia and provide therapeutic comforts. The upfront costs and questionable sustainability are often viewed as a barrier to implementing and maintaining traditional in-line fluid warmers. Common systems introduce a steady stream of captive disposables into waste streams and cost thousands of dollars annually in medical supplies. Enthermics Medical Systems has found the solution with their newest version of ivNow.
Limited Electrical Use
Hospitals and medical facilities continuously test power grids, and manufacturers are tasked to produce greener solutions to medical necessities. ivNow accepts the challenge and is built to run only when needed. The open cradle design senses when a fluid bag is placed inside the unit and only then does it begin the heating process. Once the bag has been warmed to the correct temperature and is removed, the unit shuts down, eliminating the burden of remembering to power down units. This process, from fresh to heated, only takes 30 minutes.
While the unit only draws power when needed, it is equipped with safety as a priority. The unit's digital display not only shows the actual temperature of the bag throughout the warming process, but it also records how long the bag has been warmed to comply with healthcare regulations and to reduce waste. If a bag exceeds its shelf life, the unit alerts staff for removal and disbandment of the fluid container.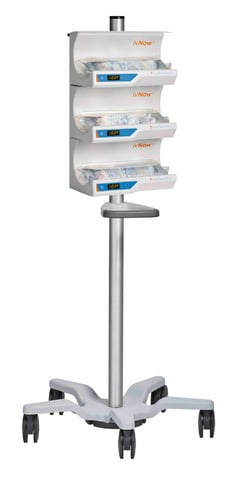 Eliminates Costly Disposals
In-line fluid warmers are historically heavy on disposable use and introduce various elements of hazardous waste into a facility's trash flow. ivNow allows for the removal of captive disposables that the traditional in-line warmers require, eliminating that waste stream while shaving thousands of dollars from the annual budget.
Improved Process
In addition to its simple implementation and minimal staff involvement, it should again be noted that the ivNow warms fluids in less than 30 minutes, cutting down heating wait times as new bags are added. The unit's flexible configuration options allow you to place this equipment where it best fits in your process. Wall mounted, or countertop locations will enable you to have a center focus point for heated fluid bags, while mobile stands allow you to move up to three units from room to room.
Calculating Your Return on Investment
Being able to forecast the long-term benefits of any piece of equipment may help you in validating the upfront costs. ivNow purchasers will see the difference these units have on a facility's in-line disposable budget. For example, a facility with an estimated annual spend of $100,000 on in-line disposables who are purchasing 40 ivNow machines would save on costs to pay for the new units in less than one year.
Seeing how ivNow warmers ensure fluids are kept at the proper temperature and immediately available without the added expense and set-up time required with in-line warming systems it is clear to see the value they will bring to your facility.
CME Corp is a proud partner of Enthermics. For more information about Enthermics and CME call 800-338-2372.
---
About CME: CME Corp is the nation's premier source for healthcare equipment, turnkey logistics, and biomedical services, representing 2 million+ products from more than 2,000 manufacturers.
With two corporate offices and 35+ service centers, our mission is to help healthcare facilities nationwide reduce the cost of the equipment they purchase, make their equipment specification, delivery, installation, and maintenance processes more efficient, and help them seamlessly launch, renovate and expand on schedule.