Physical Therapy (PT) can be used for many health issues including pain management, improved mobility, and rehabilitation to name a few. When building a new PT clinic, it is important to know which conditions will be diagnosed and treated as well as having a checklist of all equipment available for those conditions. Dynatronics and Hausmann, leaders in high-quality restorative products, developed a comprehensive checklist to outfit your new PT clinic.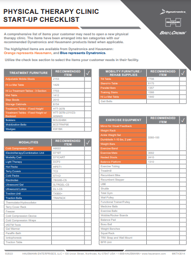 CME Corp. has many of the products needed to outfit your new Physical Therapy clinic including:
Evaluation Products
Treatment Furniture
Mobility Furniture
Exercise Equipment
Work Hardening Products
Occupational Therapy Products
When you are getting ready to outfit your new PT clinic, let CME Corp assist. Not only can we provide all of the needed equipment, CME trained installers can assembly all of the items and place it in the room where you need it. This can be a great relief since much of this equipment is very heavy and cumbersome! CME trained biomed technicians can help safety check all the equipment and asset tag them, if needed. Contact your CME account manager or go to www.cmecorp.com for more information.
About CME: CME Corp is a full-service healthcare equipment and turn-key logistics company providing personalized support and service. With service centers nationwide, CME offers more than 2 million medical products from a total of over 2,000 manufacturers. CME is a healthcare system's complete equipment solution by providing product selection, sales, warehousing, assembly, staging, direct-to-site delivery, installation, and biomedical services for all its equipment.
About Dynatronics: Dynatronics Corporation is a leading medical device company committed to providing high-quality restorative products designed to accelerate achieving optimal health. The company designs, manufactures, and sells a broad range of products for clinical use in physical therapy, rehabilitation, pain management, and athletic training. The company's products are marketed under a portfolio of high-quality, well-known industry brands including Bird & Cronin®, Dynatron Solaris®, Hausmann™, Physician's Choice®, and PROTEAM™, among others.