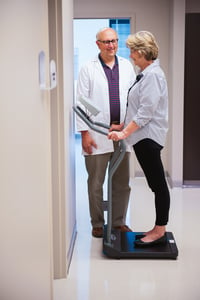 The CMS (Centers for Medicare and Medicaid Services) states that before an Accountable Care Organization (ACO) can share in any savings generated, it must demonstrate that it met the quality performance standard for that year. One of the quality measures within those performance standards is ACO-3 CAHPS: Patients' Rating of Provider.

Many factors go into a patient's rating of a provider, but most certainly the patient needs to have a positive experience. This includes not only their interaction with the physician and staff but their experience with the devices and equipment used during the exam.

If a patient has an uncomfortable experience with a piece of equipment, it may reflect poorly on their provider rating. Providers should ensure their equipment has no safety hazards, is easy to maneuver and makes the patient feel comfortable.
Increase Comfort and Reduce Injury
To help meet performance standards and secure positive ratings, facility managers can upgrade their equipment and devices to ones that were designed for positive patient care experiences and help prevent injury. For example, a facility can replace its scales to upgraded models, which are more comfortable and designed specifically for patients with low mobility.

Providers with smaller column scales could upgrade to a high capacity stand-on scale designed with very low platform heights. The low platform height requires only a minimal step-up and reduces the risk of tripping for patients with limited ability to lift their legs. These stand-on scales also come equipped with "live" handrails that allow the patients to hold on for security giving the patient a more stable weighing experience.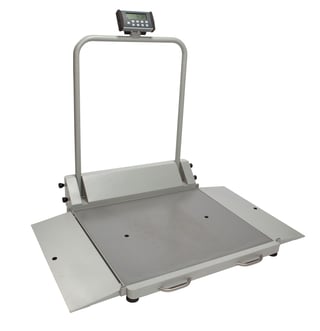 Improve the Patient Experience and Accommodate Limited Mobility
Wheelchair scales could also be considered for patients with limited mobility. These scales can be used as a wheelchair scale and a stand-on scale. For wheelchair-bound patients, it allows them to remain safely seated in their wheelchair while being weighed. The scales are designed to be able to subtract the entered weight of the wheelchair and display only the patient's weight. Unsteady patients can also be weighed on a wheelchair scale as they can use the ramp to walk up onto the platform. There are also digital chair scales available that further enhance that patient experience.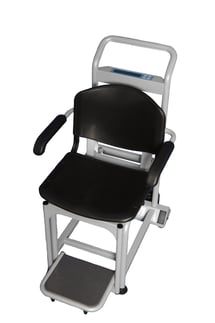 Facility operators should always consider the patient experience when researching new equipment purchases. Providing a comfortable and safe exam can help lead to positive patient survey results.
Is it time for your organization to evaluate the safety and comfort of your scales? Upgrading to more patient-focused scales might be the answer. CME is proud to represent the full line of Health o meter scales that includes the features described above. For more information or a free evaluation of your scales, call your CME account manager or 800-338-2372.
---
About CME: CME Corp is the nation's premier source for healthcare equipment, turnkey logistics, and biomedical services, representing 2 million+ products from more than 2,000 manufacturers.
With two corporate offices and 35+ service centers, our mission is is to help healthcare facilities nationwide reduce the cost of the equipment they purchase, make their equipment specification, delivery, installation, and maintenance processes more efficient, and help them seamlessly launch, renovate and expand on schedule.