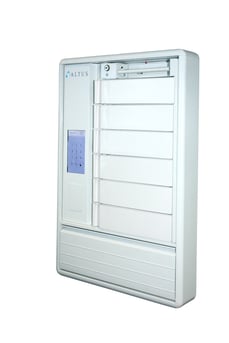 Altus provides world class technology workstations and now offers one of the most innovative med delivery solutions on the market. As of July 15, 2017, Altus officially launched the RediMed wall-mounted med delivery solution.

RediMed provides medication delivery at or near the point of care. Clinicians average over 5 miles of walking every shift and a large portion of that is due to the ~2.5 hours they spend retrieving supplies. RediMed is designed to focus that time back on providing care.
So how does it work?
Rather than walking long distances to a med room, waiting in long lines at an ADC or hoarding meds in scrub pockets or patient room drawers, all of your medication and related supplies can be individually secured within steps of your patients' bedside. Flexible bins allow for relocation based on clinician preferences, lightweight cassettes create a simple exchange and restock protocol, and state of the art software provides a real time view of who has accessed or changed out the bins at any point in time. Watch the Altus RediMed product video to see the unit in action:
Why is this more secure?
The majority of medication errors happen at the point of administration. RediMed brings meds closer to the POC, reduces distractions, and creates and organizes traceable environments for clinicians and pharmacists alike. Individual bins are tracked and locked with the support of an all-in-one software solution that is controlled by a user-friendly touchscreen.
The entire software platform is built-in to every cabinet with no additional software required. All of the cabinets are capable of communicating with a central management software to allow for audit tracking, user editing, bin labeling and setting changes from one central location. Narcotics (dual-credential bins) are also available to remain compliant with any type of medication you wish to store.
How can RediMed improve my workflow?
RediMed mounts near the patient room and can be filled by clinicians or staff on the floor or be filled via the pharmacy using an intuitive cassette fill. Cassettes can be filled by the pharmacy, swapping out all old cassettes on every RediMed cabinet on the floor with the support of an 8-cassette transfer cart to make transport quick and ergonomic. No more expired medication or items left behind in patient rooms!

Already have ADCs on the patient floors? Clinicians can take their cassettes (easy to carry at only 8 lbs!) to the ADC and fill each bin with their individual patient meds. That one med room trip took the place of 40-50 that may occur throughout their shift. In both scenarios the meds are now easy to access right outside the patient room with little to no wait time for clinicians and their eager patients. Watch the Altus RediMed workflow video to learn more:
CME is proud to partner with Altus to provide the full line of Altus products to our customers. Call 800-338-2372 for more information.
---
About CME: CME Corp is the nation's premier source for healthcare equipment, turnkey logistics, and biomedical services, representing 2 million+ products from more than 2,000 manufacturers.
With two corporate offices and 35+ service centers, our mission is to help healthcare facilities nationwide reduce the cost of the equipment they purchase, make their equipment specification, delivery, installation, and maintenance processes more efficient, and help them seamlessly launch, renovate and expand on schedule.