COVID-19 has profoundly changed the point of care, challenging healthcare systems, practices, and providers to think differently about the healthcare experience and the delivery of care.
As a result, attention to design has never been more important as these groups look for empathetic approaches that bring together workflows and technologies to support increased efficiency, safety and comfort, as well as improving outcomes. In today's patient-focused, value-based care environment, design has evolved into a strategic component of the point of care ecosystem.
For instance, the dangers surrounding the potential transmission of COVID-19 in healthcare settings brought a new urgency to address issues of patient and provider safety.
This change spotlights how important it is to share new ideas, create new workflows and develop new technologies that will help our customers meet the challenges they confront. In many ways, it also shows the importance of patient-centered design approaches at the point of care, which is increasing interest around new approaches for clinical design.
Simply stated, better care starts with a better-designed experience. A holistic design approach - one that incorporates and equally elevates facility design, workflow design, and technology/equipment design - is the foundation of effective, accessible delivery of care.
As the only clinical environmental design company that provides solutions which enable a better experience for both the provider and patient at the point of care, Midmark is at the forefront of this change, helping our customers design a positive and effective point of care experience.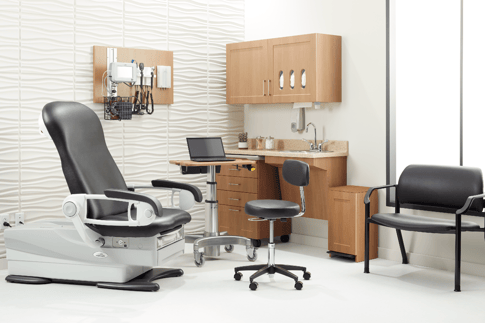 When it comes to facility design, we are showing them how the layout and configuration of the room and the equipment it contains can significantly impact the effectiveness and safety of any clinical space. Everything from the location of exam chairs to the size of exam rooms and how they are used by caregivers and patients is important to keep in mind.
We are also working with our customers to identify and incorporate new workflow design options that help them move away from the typical linear design of care environments. These include patient-centered designs models such as collaborative care, self-rooming, and dual-access, which increase efficiencies and provide a better experience for caregivers and patients.

Finally, we are deliberately developing equipment and technology designs that are specifically suited for use in clinical environments to increase the level of efficiency, flexibility, safety, and comfort. How these types of solutions are designed can mean the difference in them complimenting your operational initiatives and objectives or creating a vulnerability within your program.

As the role of design continues to gain prominence in ambulatory care, it is important that healthcare organizations and practices have the new approaches, innovative technologies and proven solutions they need to not only improve the quality of care provided and clinical outcomes achieved, but to also foster a positive point of care experience.
CME Corp proudly partners with Midmark to offer their products. Call your CME account manager or 800-338-2372 for more information on Midmark solutions for your facility.
---
About CME: CME Corp is the nation's premier source for healthcare equipment, turnkey logistics, and biomedical services, representing 2 million+ products from more than 2,000 manufacturers.
With two corporate offices and 35+ service centers, our mission is to help healthcare facilities nationwide reduce the cost of the equipment they purchase, make their equipment specification, delivery, installation, and maintenance processes more efficient, and help them seamlessly launch, renovate and expand on schedule.