Pushing, pulling, and transporting patient beds and stretchers is fairly common in most hospitals. Transporting beds from one area of the hospital to another can also be problematic. Many beds that are moved are "specialty" by nature, including Air Fluidized Therapy (AFT) and Bariatric beds, which are extremely heavy (up to 1500 lbs.) and sometimes have patients on them! Transportation routes can include slopes, ramps, carpets, and other obstacles that magnify the problem. Moving these beds and stretchers can cause strain; straining incidents are the NUMBER ONE cause of injury to healthcare workers. Workers' compensation costs can be upwards of $5,000 per case, not to mention the loss of the healthcare worker for potentially extended periods. Hospitals are experiencing labor shortages, so minimizing workplace injuries is a BIG focus.
Possible Solutions
Tampa General Hospital (TGH) did an Ergonomic Assessment study in 2019 on moving a specific bed (1400 lbs.) within their facility. The hospital had spent almost $100,000 over the last five years on workers comp cases initiated from moving beds. The study revealed that most female healthcare workers need to use more force than recommended to move the bed, placing team members at risk of injury. Viable solutions included transferring patients from the bed to a stretcher during transporting, utilizing four team members to move the unoccupied bed, and/or purchasing an electric "bed mover" which motorizes the task. Tampa General opted to purchase the StaminaLift® TS6000 Transfer System from TR Equipment and have been very happy with the results.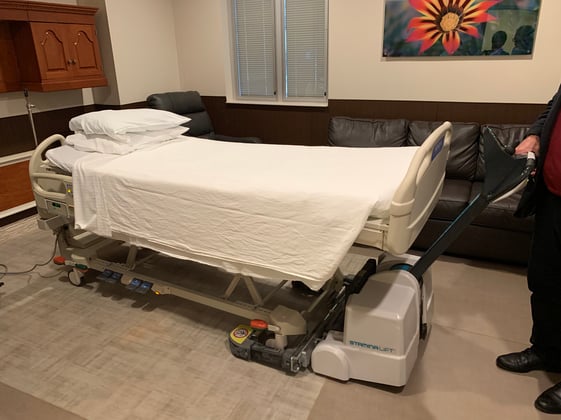 Why StaminaLift® TS6000 Transfer System?
Primarily, the StaminaLift® TS6000 offers proven technology designed to prevent work-related injury by reducing the effort required to move hospital beds. It utilizes joystick control to drive the device for zero muscle activation. Here are more reasons:
Moves up to 900 kg (1,984 lbs.)

Compatible with 95% of hospital beds

Works with most stretchers and some linen carts and trolleys

Easy to use

Certified on gradients up to 7 degrees

Height adjustable

Dual drive 360-degree movement

One person operation
The StaminaLift® TS6000 Transfer System is a unique product that has gained many loyal users over the past few years. For more information, please go to www.cmecorp.com or call 800-338-2372. CME is a proud partner of TR Equipment and your local CME account manager can help with references, demos and a detailed quote.
About CME: CME Corp is a full-service healthcare equipment and turn-key logistics company providing personalized support and service. With service centers nationwide, CME offers more than 2 million medical products from a total of over 2,000 manufacturers. CME is a healthcare system's complete equipment solution by providing product selection, sales, warehousing, assembly, staging, direct-to-site delivery, installation, and biomedical services for all its equipment.
About TR Equipment: TR Group represents a complete line of patient bathing products ranging from bariatric and standard shower trolleys, shower chairs varying in height adjustability and recline features and bath tubs all designed by TR Equipment AB and Rebotec GmbH. We also represent patient bed transport by StaminaLift and wheelchair movers by Dane technologies. Inherent in the design of our products is safety for both the patient and the care giver while also being easy to clean and disinfect after use. The TR range can meet all your patient hygiene and transport needs.