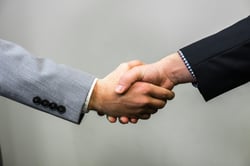 "Enhancing the partnership with Intalere National Health Alliance opens many doors for CME as we continue to expand across the nation and bring our world-class healthcare equipment solutions to facilities," said K.C. Meleski, Vice President of Sales for CME. "This year, a major focus for us is saving money for our customers, and this agreement is a critical part of that strategy to help facility operators find efficiencies and streamline their operations."
In fact, this deeper agreement means access to more than $2.1 billion in group purchasing sales volume, allowing improved pricing for CME customers. In addition, INHA members can elevate to Tier Level 3 without any volume commitment, allowing for greater saving in healthcare equipment purchases.
"The expanded INHA agreement is a great opportunity to engage with new customers and add value without volume commitments," said Cindy Martin, Director of National Accounts for CME. "We have already had significant interest and hope to further capitalize on what has been a successful partnership with the INHA. After many years of working with them, we are excited to be taking the next step and extending our reach into the national marketplace."
It makes sense that these two organizations continue to work together in servicing the healthcare market. Intalere's mission of focusing on elevating the operational health of America's healthcare providers by designing tailored, smart solutions that deliver optimal cost, quality and clinical outcomes teams well with CME's comprehensive equipment offering and turn-key logistics.
INHA strives to be the essential partner for operational excellence in healthcare through customized solutions that address customers' individual needs. They assist customers in managing their entire spend, providing innovative technologies, products and services, and leveraging the best practices of a provider-led model.
The relationship with CME brings them access to a comprehensive healthcare equipment distributor and turn-key logistics company that is known for providing personalized support and service. With service centers nationwide, that offer more than 1.2 million healthcare products from over 1,400 manufacturers, CME works to be a healthcare system's complete equipment solution providing product selection, procurement, warehousing, assembly, staging, direct-to-site delivery, installation, and technical/biomed services for all of its equipment.
View a formal press release on this agreement.
For more information, call 800-338-2372 or visit our website www.cmecorp.com.