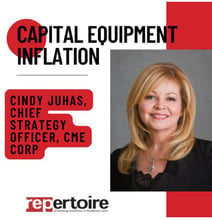 Inflation may have fallen overall in recent months, but manufacturers of medical equipment have yet to feel the effects of this good news.
Repertoire Magazine reached out to CME's Chief Strategy Officer, Cindy Juhas for her thoughts on how the cost of raw materials, labor, and transportation are continuing to affect the price of medical equipment.
Read the full article from Repertoire Magazine
---
About Cindy Juhas: Sought out for her expertise and often quoted in national publications, Cindy also authors countless articles for industry publications.
Prior to becoming CME Corp's Chief Strategy Officer Cindy was the owner and President of Hospital Associates from 1998 until 2015 when the company merged with Claflin Medical to form a premier, nationwide medical equipment distributor specializing in turnkey logistics, delivery, and support services. In 2016 Claflin Medical, Hospital Associates, and RSI rebranded as CME Corp.
Cindy was the first woman to chair the Health Industry Distributors Association (HIDA) and the first woman inducted into the Medical Distribution Hall of Fame. She is also a co-founder of Professional Women in Healthcare, a mentoring platform for women in the healthcare supply chain industry. Cindy's focus for developing CME's go-to-market strategy is paramount to the company's success and goal of being the leading comprehensive healthcare equipment and turnkey logistics company.