June 1, 2023
CME Corp., the largest equipment-only distributor of medical products in the U.S., is pleased to announce that Mike Malec, CME Account Manager, has been named Repertoire Magazine's Distribution Rep of the Year.
---
Mike received this distinguished honor at Repertoire's 2023 Medical Distribution Hall of Fame dinner held 20 April 2023 in Atlanta, Georgia. Scott Adams, Managing Partner of Repertoire, noted in his introductory remarks that Mike received more nominations than any other rep in the history of the award.
Normand Chevrette, CME Corp President, and CEO voiced his pleasure with the news of the award saying he, "couldn't be happier that our industry feels the same way about Mike as we do at CME." He describes Mike in a word, "Respect," and explains, "Mike has always held the greatest respect for his customers and his teammates here at CME, people simply enjoy working with him and it shows in his success."
During his acceptance speech Mike, a 34-year veteran of medical sales, expressed his thanks to everyone who nominated and voted for him, particularly the manufacturing community, noting that distribution account managers are nothing without their manufacturing partners. He was quick to point out that he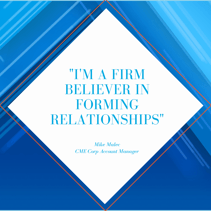 considers the award a team award and named the Customer Service, Project Management, Direct-to-Site, and Warehouse teams in his Illinois and Wisconsin territory as critical to his success. In a moment of levity, Mike shared a secret … "nothing motivates a sales rep like having three kids in college at the same time" before acknowledging the role his wife of 25 years and three children have had in supporting and encouraging his career.
Normand echoed the importance of family in his congratulations, saying "I know that being as successful as Mike has been, is a real family team effort."
KC Meleski, CME's Vice President of Sales recognizes that "when Mike joined our team in 2017 our footprint in the Chicago market immediately grew by leaps and bounds. The relationships that he holds with healthcare providers and manufacturers in his local market is second to none."
KC continued, "Mike is a class act in everything that he does, and we are very fortunate to have him as a leader on our team. He is always willing to share his knowledge and help mentor our junior reps. He will leave a great legacy in both the territory he has grown and in all the people he has helped along the way."
---
About CME Corp:
CME Corp. is the nation's premier source for healthcare equipment, turnkey logistics, and biomedical services, representing 2 million+ products from more than 2,000 manufacturers.
With two corporate offices and 35+ service centers, our mission is to help healthcare facilities nationwide reduce the cost of the equipment they purchase, make their equipment specification, delivery, installation, and maintenance processes more efficient, and help them seamlessly launch, renovate and expand on schedule.
Media Contact
Kristen Sisson
Chief Marketing Officer, CME Corp.
ksisson@cmecorp.com