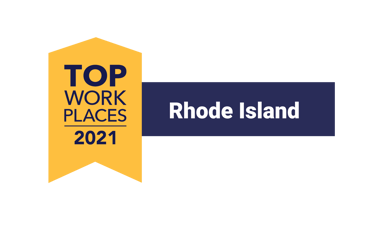 WARWICK, R.I. – CME Corp has been named a 2021 Top Workplaces winner in Rhode Island! The list is based solely on employee feedback gathered through a third-party survey administered by employee engagement technology partner Energage, LLC. The anonymous survey uniquely measures 15 culture drivers that are critical to the success of any organization: including alignment, execution, and connection, just to name a few.
This is the first year Energage has compiled a list of standout Rhode Island employers.
"During this very challenging time, Top Workplaces has proven to be a beacon of light for organizations, as well as a sign of resiliency and strong business performance," said Eric Rubino, Energage CEO. "When you give your employees a voice, you come together to navigate challenges and shape your path forward. Top Workplaces draw on real-time insights into what works best for their organization, so they can make informed decisions that have a positive impact on their people and their business."
"Being recognized by our people this way is truly rewarding and confirms that our 'people first' approach is an important part of our culture," said Normand Chevrette, President and CEO of CME.

"The feedback from our employees are the results of our very simple mantra here at CME: family comes first, and CME comes second. Everyone in our organization helps one another to make sure no one misses important family events, regardless of how busy we may be. By making "family" the center of our work culture, our employees are able to feel fulfilled and go the extra mile so our customers receive the best service possible.

The resiliency of our people during these challenging times has not only been inspiring, but has also been a key strategic factor in our strong business performance and expansion – which has continued during the pandemic," added Mr. Chevrette.
Read more on our Top Workplaces profile, here. Interested in applying to a family-centric company? Visit our Careers page to learn more about our available opportunities!
---
About CME Corp:
CME Corp is the nation's premier source for healthcare equipment, turnkey logistics, and biomedical services, representing 2 million+ products from more than 2,000 manufacturers.
With two corporate offices and 35+ service centers, our mission is to help healthcare facilities nationwide reduce the cost of the equipment they purchase, make their equipment specification, delivery, installation, and maintenance processes more efficient, and help them seamlessly launch, renovate and expand on schedule.
About Energage, LLC:
Making the world a better place to work together.™ 
Energage is a purpose-driven company that helps organizations turn employee feedback into useful business intelligence and credible employer recognition through Top Workplaces. Built on 15 years of culture research and the results from 23 million employees surveyed across more than 70,000 organizations, Energage delivers the most accurate competitive benchmark available. For more information or to nominate your organization, visit energage.com or top workplaces.com.

Media Contact
Cindy Juhas
Chief Strategy Officer, CME Corp
cjuhas@cmecorp.com