New partnership with group purchasing organization opens door for 1,400 member organizations that need healthcare equipment.
WARWICK, R.I. – CME Corp and HPS are pleased to announce a new agreement that will help hundreds of facilities nationwide reduce the cost of healthcare equipment, and increase the efficiencies of maintenance and logistics processes.
HPS has more than 1,400 members in the medical, medical associate. and senior living groups that will benefit from this new partnership. This makes an ideal partnership with CME, which has been expanding rapidly for several years with its brand of equipment sourcing and planning for healthcare facilities.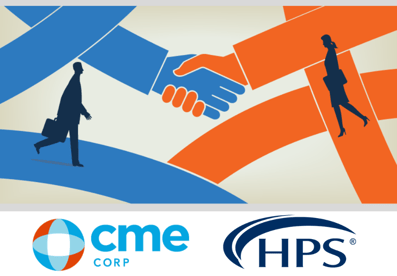 Using its nationwide warehousing capabilities and established relationships with more than 1,400 manufacturing partners, CME will provide direct staging, direct-to-site delivery, and on-site installation including clean-up. Additionally, CME's team of biomedical technicians will provide HPS members with maintenance and advanced back-up service needs, supplementing member biomedical teams if desired. At a time when qualified biomedical technicians are at a premium, HPS members will have increased access to the experts at CME.
"We are excited to offer CME's equipment solutions across the supply-chain to HPS with personalized service and support," said Don Boone, Director of National Contracts for CME.
"With more and more healthcare facilities coming online every day and financial challenges intensifying, the industry has grown hungry for cost-savings whether it's through smarter equipment purchasing, a seamless delivery and installation process, or longer-term maintenance."
The agreement spans two years with options to renew two additional two-year periods through 2026.
"With its proven ability to help healthcare facilities during times of change, CME is uniquely suited for our members," said Kevin Crampton, Vice President of Contracting and New Business Development. "As a member-owned GPO, we pride ourselves in the value we add for our members, and this new partnership will accomplish that in the most direct way possible."
---
About CME Corp: CME Corp is the nation's premier source for healthcare equipment, turnkey logistics, and biomedical services, representing 2 million+ products from more than 2,000 manufacturers.
With two corporate offices and 35+ service centers, our mission is is to help healthcare facilities nationwide reduce the cost of the equipment they purchase, make their equipment specification, delivery, installation, and maintenance processes more efficient, and help them seamlessly launch, renovate and expand on schedule.
About HPS: HPS is group purchasing organization (GPO) that serves the needs of more than 4,100 members in 26 states. Member-owned and member-operated since 1949, its core membership base is made up of organizations that have a direct impact on the communities they serve, from hospitals to senior living facilities to schools to camps and many more.
HPS offers its members access to more than 140 contracts with manufacturers and distributors for essentially everything they would need to run their organizations, as well as dealership pricing on furniture, finishes, and equipment, which is complemented by interior design services.